Solar mobile charger with carabiner
Item No: BT-3210
-Suitable for mobile phone, digital camera, MP3/MP4 player and other similar products.
-Elaborate and fashion.
-Small size and light weight, easy for carrying.
-The diameter of the product's input and output ports are different which will avoid the problem of inserting plugs wrongly.
-With a solar panel, convenient to charge at anytime and anywhere by sunshine easily.
-Convenient to carry with a hook hanged on the backpack.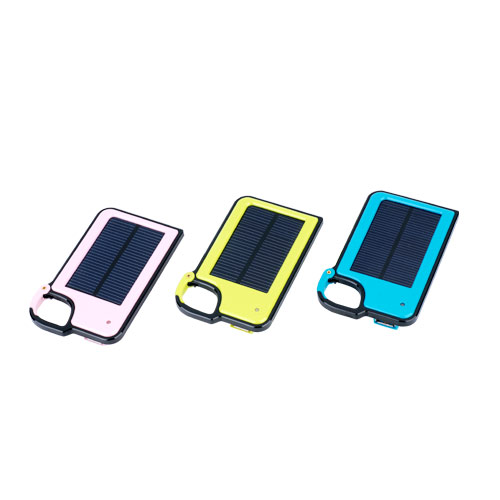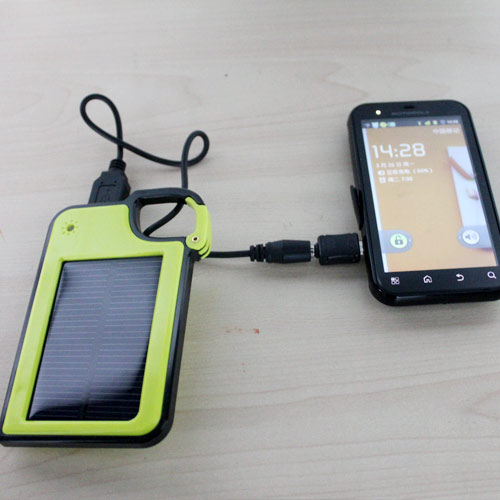 New Mobile Solar Charger with Carabiner

Product's parameter:
1. Solar panel:0.4W/5.5V
2. Built-in battery capacity: 1450mAh Li-Pol battery.
3. Adapter: 5V/500mA
4. Output: USB port (DC5.5V/500mA)
5. Life cycle: 500 times.
6. Weight: 80g

Features & Functions
1. It adopts environment friendly lithium battery with capacity of 1100mAh.
2. Powered by solar energy.
3. Suitable for products with voltage of DC 5 V±0.5V and current of ≤500mA.
4. Super long lifespan, after 500 cycles of charge and discharge circle, the capacity remains more than 80%.
5. Smart protection chip: over-charging protection, over-discharge protection and short circuit protection.
6. It is convenient to charge your digital products at anytime and anywhere.
7. Elegant appearance, carabiner design, convenient to carry.
8. Customized logo: can be imprinted with your own logo as you request.
9. Customized color: any color can be available.
10. Suit for travel, camping, emergency, promotion gift, advertising gift, eco-friendly products, outdoor, novel gift, business gift or other usaege.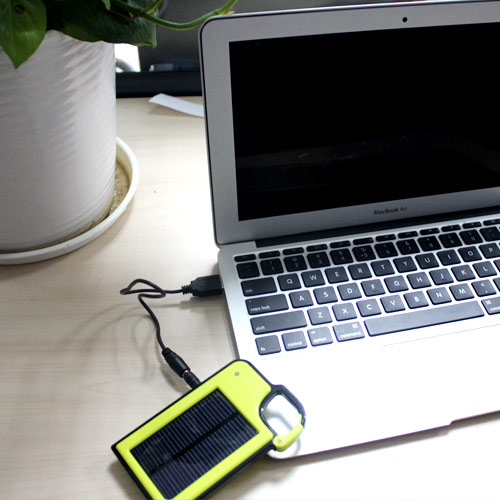 Solar mobile charger with carabiner

Before Orders:

If possible, please tell us what's the purpose for using it, so that we can recommend you the best package. Of course with best price to you!
Any other request, please feel free to let us know.
OEM & ODM service is also avaiable
SAMPLES are avaiable before order.