Details for
Rear Brake Pad Set for BMW OE 34211156746,34211153196


KAMART
OE NO
FMSI
FERODO
WVA
RBP-009
34211156746
34211153196
D279-7182
FDB296
FSL296
WBP20675A
TRW
Brake System
Size [mm]
Position
Application
GDB299
ATE
Length : 126
Height : 39
Thickness : 16.3
Rear axle
BMW 3 (E30)
BMW 3 Touring (E30)
BMW 3 Convertible (E30)
BMW 5 (E28)
BMW 6 (E24)
BMW 7 (E23)
RBP-009 Photos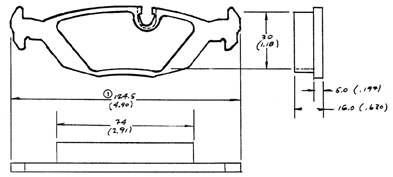 Package:Plastic bag +Carton+Pallet


Semi-Metallic:
1.Platform specific, professional grade friction for optional braking performance and better wear.
2.Integrally molded or riveted, based on OE method of attachment.
3.Employ shims, slots, chamfers and offer refinements to reduce vibration and noise to ultimate in quiet, secure performance.


Low-Metallic:
1.Low-metallic friction performance to the high-heat and high-speed needs.
2.OE style constraint layer shims that the friction can stand even with high performance.
3.High friction coefficient.


Ceramic:
1.No noise and no dust.
2.This formula reduces heat generation, cool down more quickly. Also it generates no dust, with corrosion-free characteristics for improved wheel esthetics.