comb plate

1,this is aluminum comb plate,we are manfacturer and we can provide many kinds of aluminum,ABS and plastic comb plate.
2,the technical parameters: many different kinds
3,material: aluminum
4,we can produce many kinds of aluminum and plastic comb plate if you provide us drawing and dimention details or samples,we can open mold to produce.
5,more information please feel free to contact me.
6 Teh quantity of teeth: 23
7. The escalator comb plate divided into two types of aluminum and plastic
8. Our comb Plate for escalator is with the best quality and the most competitive price
9 We could afford all kinds of escalator comb plate
Our company has experience in the field and got ISO9001:2000 Certification. We are able to research, design and manufacture different kinds of rollers.
Our main products are elevator hanger rollers, door lock rollers, polyurethane rollers, roller guide shoes, high-speed rollers. We manufacture polyurethane rollers and related products for automatic escalators, including step rollers, step chain rollers, handrail driving pulleys, pressure rollers, support rollers, comb plates, step chains and safety brushes. All of our products are suitable or replacement for Hitachi, Mitsubishi, Schindler, Dongyang, Toshiba, KONE and Thyssee.
Type
Specification (mm)
Length
Width
number of teeth
Tooth Pitch

Hole Spacing
left(1piece)
199
106
22
9.068
145 (2holes)
mid(3piece)
199
106
22
9.068
145 (2holes)
right(1piece)
199
106
22
9.068
145 (2holes)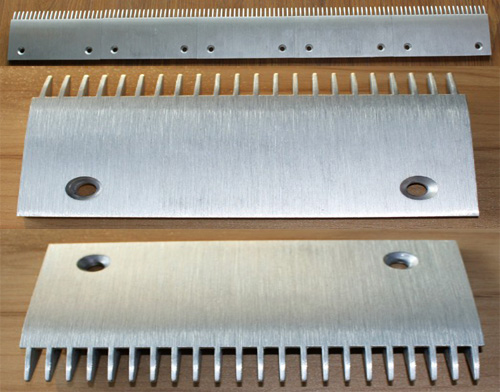 comb plate