Product Name:automotive water pump seal

1.Various types and sizes
2.Material:Rotary ring :carbon /ceramic/SIC/TC
Static ring:ceramic/SIC/TC
Secondery seal:NBR/VITON/EPDM and etc
Spring:sus 304 sus316 s.s
The material has good abrasion resistance .
3.Mediums:oil ,light hydrocarbon,aromatic hydrocarbon,organic solvents,weak acids,alkali,ammonia etc.
4.Speed:up to10m/s
5.Application:auto ,motorcycle,piping pumps and other machineries.
6.Mechanical seal performance is stable and durable.
7.Small quantity is accepted.
8.We can also make as customer's samples.

This is the design drawing: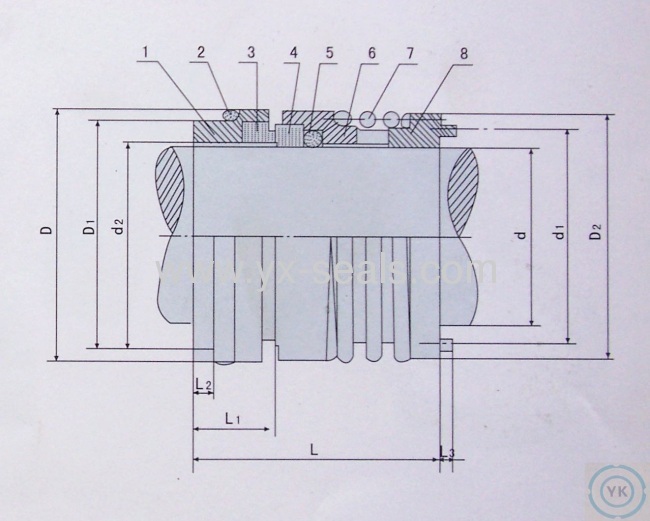 More size informations , please contact us dorectly .
| | | | | | | | | | |
| --- | --- | --- | --- | --- | --- | --- | --- | --- | --- |
| Spec/Size | d | d1 | d2 | D | D1 | D2 | L | L1 | L2 |
| YK113-20 | 20 | 26 | 21 | 35 | 29 | 33 | 35 | 14 | 5 |
| YK113-25 | 25 | 32 | 26 | 40 | 34 | 39 | 37 | 14 | 5 |
| YK113-30 | 30 | 37 | 31 | 45 | 39 | 44 | 40 | 15 | 5 |
| YK113-35 | 35 | 42 | 36 | 50 | 44 | 49 | 45 | 15 | 5 |
| YK113-40 | 40 | 48.5 | 41 | 58 | 51 | 57 | 50 | 18 | 5 |
| YK113-45 | 45 | 53.5 | 46 | 63 | 56 | 62 | 50 | 18 | 5 |
| YK113-50 | 50 | 58.5 | 51 | 70 | 62 | 69 | 55 | 18 | 6 |
| YK113-55 | 55 | 64.5 | 56 | 75 | 67 | 73 | 55 | 18 | 6 |
| YK113-60 | 60 | 70 | 61 | 80 | 72 | 79 | 65 | 19 | 6 |
| YK113-65 | 65 | 74.5 | 66 | 85 | 77 | 84 | 65 | 19 | 6 |