double line FDL stainless steel manifold for floor heating systems

our stainless steel manifold mainly used in floor heating system , the above FDL series is our newly developed standard stainless steel manifold , the size of the pipe is 40mm, the screw of the manifold body pipes is G1",the outlet thread is G1/2" the water outlet is from 2 to 12 outlest .

According to the different requests from different customers , we can use the SUS304 or SUS316L to produce the main body pipe of the manifold, use good quality brass screw fittings on the outlets , the surface treatment have : original stainless steel color , wiredrawing , chromating , nickliing and so on

Product's features
♦With control valves in supply and return parts controlling the flow in the system to execute the adjustment for each loop.
♦Convenient for the drainage of the system and pressure testing .
♦The exhausted gas in the system can be released automatically .
♦It is convenient for installation and maintenance with movable connection fitting .
♦Double-sealed , safe and reliable .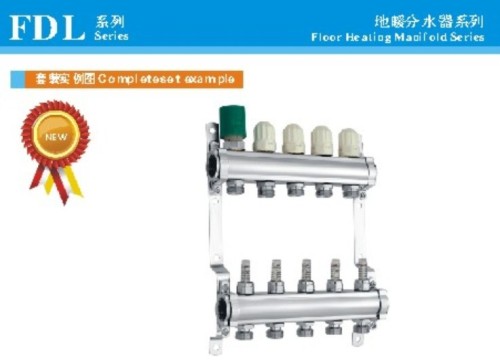 double line FDL stainless steel manifold for floor heating systems