Delivery state, Fulfills the applied voluntary standards as per defined in the contract.
Product

Grade

Dim. Range (mm)

Voluntary Standards

Titanium & its alloy tubes

Gr1-Gr12

¢3-15*0.2-2.0*≤11000

¢16-110*0.6-5.0*≤15000

¢25-210*4-30*≤15000

ASTM B337

ASTM B338

ASTM B861





Specifications
1. ISO 9001:2000
2.chemical processing /medical intrustment
3.Standard:ASTM B 338
4.GR1,GR2,GR9
5.Testing:offer mill's

Quality Assurance
----According to globally recognized standards, such as ASTM, AMS, ASME,JIS,MIL...
-----Chemical composition, Mechanical properties, are strictly controlled, All of the products are detected by ultrasonic inspection,making sure that no defects inside the products. Ensuring our clients get the best products.
-----ISO Quality Management System
----- The Third Party Quality Test Certificate, such as SGS
------We are verified by third-party inspectors and alibaba.com staff.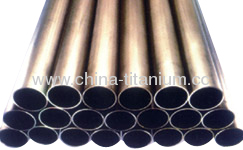 Product packaging: