Product Name:
Titanium heat exchanger reaction kettle

. Developed with advanced technology.
. Energy saving.
. High efficiency.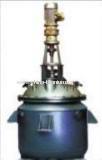 Features:
1) Industrial/domestic use
2) Material: Austenitic stainless steel, 16MnR, 20R, 304, 321, 316L / cladding plate
3) Temperature: -40 - -350ºC
4) Pressure: -0.1 - 9.9Mpa
5) Max. Volume: 600M2
6) Custom designs available
7) Efficient augmented, threaded tube, fixed tube-sheet, floating-head or U-tube

Our company is a famouis producer for reactors/chemical machinery,our products have been sold all over in China and even exported to more than 20 countries, we welcome clients from all over the world contact with us for mutual-developing.