Kyoto 4 Items Linen Storage Cabinet Bamboo and MDF Wood Kitchen Trolley Cart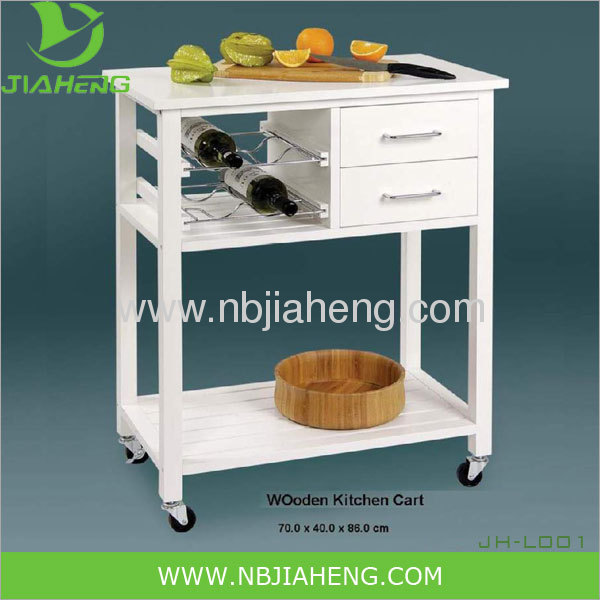 Specifications
kitchen utility cart
Heart-of-the-Kitchen Island with Drop Leaf
Reasonable price
Special design
Details
Wooden kitchen trolley
Including:
* 2 drawer
* 2 wine rack shelves
* 4 black wheels with 2 stoppers

Material: Chinese hardwood or MDF

Dimension: Other size can accept

Packing: K/D, each part wrapped with EPE and bubble bag and then into an ordinary export carton.
Finishing: white lacquer
MOQ: it can negotiate
Delivery date: 35 days after your 30% deposit or L/C

Our advantage: High quality,Sample and usful design, economic and strong structure K/D structure, easy for assembling.
Kyoto 4 Items Linen Storage Cabinet Bamboo and MDF Wood Kitchen Trolley Cart
The Heart of the kitchen Island offers a beautiful,traditional piece of kitchen furniture. One of the newest items in the Catskill Craftsmen Collection, this island provides a large 70*40*86cm countertop that provides ample space for most food preperation tasks. An open shelf with access from all sides, provides ideal storage for frequently used pots and pans. Storage capacity is maximised through the enclosed cabinet and shelving at both ends of the trolley. The modern nickel-plated handles can also be used as towel rails. Heavy-duty castors allow you to move the island with ease. Whilst locking when in position.
Smooth glide drawers, thick tops and heavy duty locking castors provide that special finishing touch to a range of stunning and functional centrepiece designs. Presented in manageable cartons for self assembly. A cupboard and open shelf with access from both ends provide flexible storage.
What we offer?
Bamboo and wooden furniture, We have sufficient strength to satisfy your needs Kthchen trolley, that is our best seller product,Various shoes rack and book rack,Bamboo and wooden kitchenware accessroies, bamboo skewers, wooden and bamboo bathroom cabinet, wooden beer table, etc.
Kyoto 4 Items Linen Storage Cabinet Bamboo and MDF Wood Kitchen Trolley Cart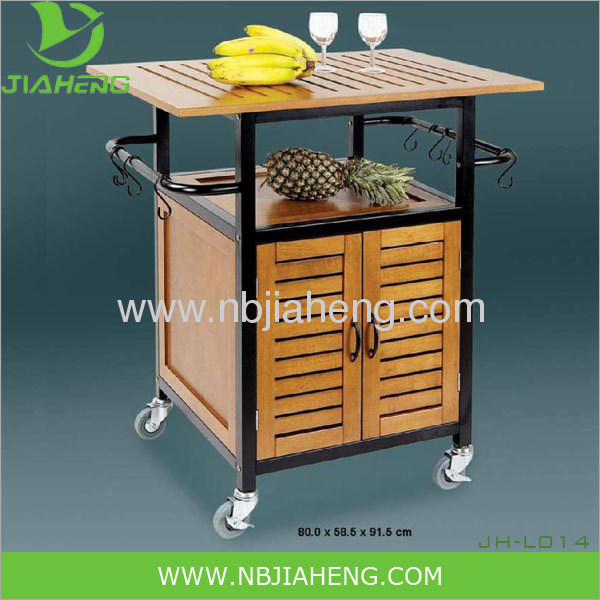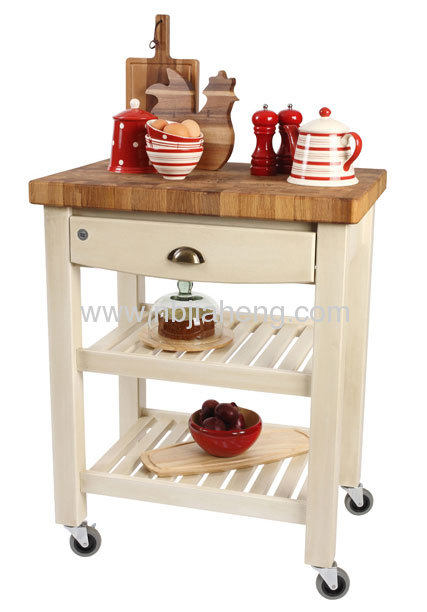 What are my choices when it comes to kitchen island design?
From stainless steel to butcher block kitchen islands, you're bound to find something that complements your kitchen style. You can also choose from built-in kitchen islands or free-standing mobile kitchen islands for greater flexibility.


Is a kitchen island right for my kitchen?
Kitchen islands look fantastic – but are really only suitable for quite large kitchens. You need to have enough space, not just for the kitchen island itself but for people to move comfortably around it. For more on what can work in your kitchen, get the lowdown on kitchen layouts.


What can I use a kitchen island for?
Kitchen islands are incredibly versatile. Having a kitchen island allows several people to use the kitchen comfortably at the same time and can also provide an eating space. Add kitchen island cabinets and kitchen island carts for extra storage.


Can I put an appliance in my kitchen island?
Yes. If you buy your kitchen island at the same time as the rest of your kitchen, it can be a be great place for hobs, dishwashers and even sinks (although you'll need to have plumbing in the right place).


Are kitchen trolleys a good alternative to kitchen islands?
If you don't have enough space for a kitchen island, a kitchen trolley can be a way of giving yourself an extra surface and extra storage. Kitchen trolleys are also versatile because you can move them around.
Get more great ideas for organising your kitchen.


How can I make the most of my kitchen trolley?
As well as using your trolley's surfaces as an extra workspace, you can add hooks and rails to give you even more storage. You can also combine your kitchen island with a kitchen trolley tucked underneath for extra storage.

If you want more detailed information of this product or related problems, please contact with us, we will reply as soon as possible (general in 24 hours)..