Bamboo Wooden Kyoto Kitchen Trolley Rolling Cart Rack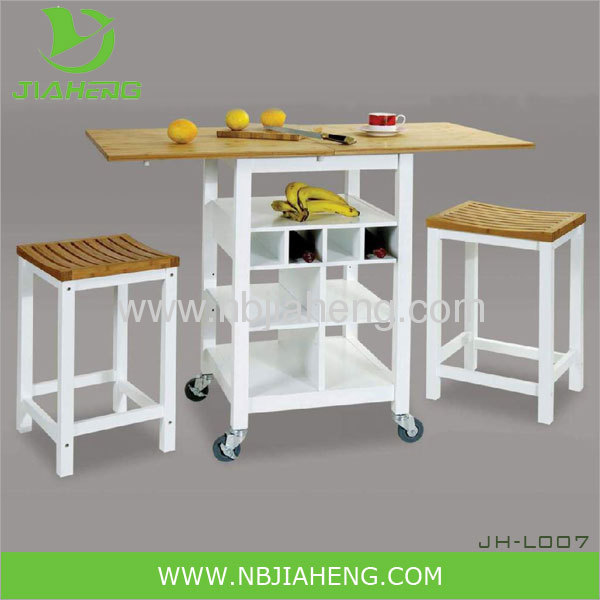 Specifications
*Wooden Kitchen Trolley
*Material: quality pine wood+Bamboo
*Simple & eleglant design
*Multi-functions.
Details
Bamboo kitchen trolley
Including:
* no drawer
* 4 shelf and with bamboo top
* 4 wheels
1. Our trolley is made of bamboo, it is nature and durable.
2. The troleey is suitable for restaurant, kitchen,hotel etc.
3. Nature color with eatable oil finish. The color will not fade.
4.Our trolley has special processed at the high temperature and high pressure.
5.It constructs from round sanitary stainless steel tube, with 4 wheels.

Material: all natural bamboo board with marble top


Dimension: Other size can accept


Packing: K/D, each part wrapped with EPE and bubble bag and then into an ordinary export carton.
Finishing: white lacquer
MOQ: it can negotiate
Delivery date: 40 days after your 30% deposit or L/C
Bamboo Wooden Kyoto Kitchen Trolley Rolling Cart Rack
Our advantage: High quality,Sample and usful design, economic and strong structure K/D structure, easy for assembling.
Customized orders and new designs are welcomed. Our product are of high quality, which we believe they will meet your demand and satisfy you.
If your kitchen has little counter space but a lot of floor space, adding a kitchen island is a smart way to increase your work and storage areas. There is wide a variety of ready-made kitchen islands and kitchen carts available to match any design style or decor, with features that will work in your kitchen.
Get organized, naturally! This beautiful kitchen trolley is designed to help you organize the practical side of your kitchen and pantry and is entirely handcrafted of natural material. The lovely honey color of Bamboo is produced without the use of stain or paint, but through a special heating process that caramelizes the sugar in the wood. It is such a great accessory to help you around the kitchen or for serving at dinner time. It features casters for easy mobility, 3 storage shelves, and storage drawer with handle beneath the top surface which is great for holding utensils and other kitchen accessories. The 2 center shelves are versatile for storage and can hold anything from plates to books, while the bottom shelf is perfect for storing up to 4 bottles of wine.

Bamboo Wooden Kyoto Kitchen Trolley Rolling Cart Rack
Comments about Eco-Friendly Bamboo Kitchen Trolley:
This was exactly what I was looking for in my small kitchen. It takes up very little room and I can move it easily if necessary. I put my toaster on the very top most of the time, but recently, when I had a party, I was able to slip the toaster on to one of the roomy other shelves and put my coffee maker on the top instead. I also love the small bottom wine rack and the drawer where I can store different odds and ends. The bamboo material is very attractive and cleans up easily. I spent a little more than I had intended on this item but it's worth it!
Installing a Kitchen Island

Measure the area. Measure the available space in your kitchen to determine the size of the island you need. Pay attention to how much space you need to open appliances, such as the refrigerator, oven or dishwasher. Leave three feet of open space between the kitchen cart and solid structures like walls, cabinets or appliances.

Choose materials. You might want the island to match the cabinets or to have a contrasting finish. Decide whether you want a sturdy, solid wood piece or something made out of less expensive, though less durable, materials.
Choose a countertop. Marble or granite are good if you do a lot of baking because those smooth, natural materials are perfect for rolling out pastry crust or fondant. Marble stains easily, however, so it is not advisable if you work with a lot of foods that can leave stains, especially homemade sauces that entail lots of chopping. Many chefs choose butcher blocks. If cost is a consideration, laminate or steel are inexpensive, versatile options.
If you want more detailed information of this product or related problems, please contact with us, we will reply as soon as possible (general in 24 hours)..