NEW KYOTO BAMBOO HOME KITCHEN STORAGE ROLLING SERVING CART ISLAND TROLLEY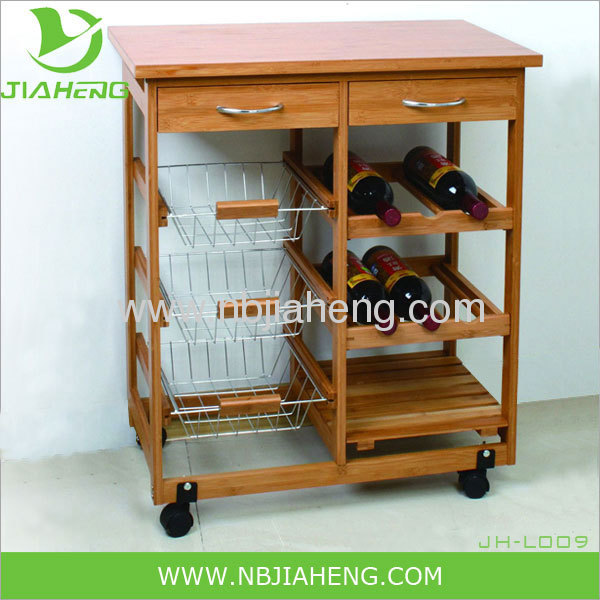 Specifications
*Wooden Kitchen Trolley
*Material: quality Bamboo
*Simple & eleglant design
*Multi-functions.
Details
Bamboo kitchen trolley
Including:
* 1 drawer
* 2 shelf and with bamboo top
* 4 wheels
1. Our trolley is made of bamboo, it is nature and durable.
2. The troleey is suitable for restaurant, kitchen,hotel etc.
3. Nature color with eatable natural varnish finish. The color will not fade.
4.Our trolley has special processed at the high temperature and high pressure.
5.It constructs from round sanitary stainless steel tube, with 4 wheels.

Dimension: Other size can accept


Packing: K/D, each part wrapped with EPE and bubble bag and then into an ordinary export carton.
Finishing: white lacquer
MOQ: it can negotiate
Delivery date: 40 days after your 30% deposit or L/C
NEW KYOTO BAMBOO HOME KITCHEN STORAGE ROLLING SERVING CART ISLAND TROLLEY
Our advantage: High quality,Sample and usful design, economic and strong structure K/D structure, easy for assembling.
Evaluate features. Some kitchen carts feature drawers and cabinets for storage, while others offer open shelves or wine holders beneath the countertop. Many islands feature an end towel rack, which may or may not work in the space you have. Some islands offer power outlets, but the island still needs to be plugged into an outlet in your kitchen.


Assess portability. Decide whether you want an island that is easily movable versus one that is intended to remain in one place. If your kitchen is small, a cart that is on lockable casters is easy to relocate as needed. If your kitchen is large, however, or you intend to add bar stools and use your island for extra seating, you'll want a more stable fixture.

Customized orders and new designs are welcomed. Our product are of high quality, which we believe they will meet your demand and satisfy you.
NEW KYOTO BAMBOO HOME KITCHEN STORAGE ROLLING SERVING CART ISLAND TROLLEY
Add extra storage and counter space without remodeling when you buy a kitchen island for your home. Whether you need a drop-leaf kitchen island so you have plenty of room for chopping vegetables or a sleek stainless steel kitchen island that provides storage for your pots and pans, the following suggestions will help you buy kitchen islands and carts that work for your space. Read on for tips on finding the best kitchen island for your home.
Choosing the Best Kitchen Trolley
Consider the functions you need. If you're looking for a kitchen island design that will give you a lot of space for preparing meals, you'll probably want to buy a drop-leaf kitchen island. This versatile piece of furniture will offer plenty of countertop space when you need it but fit neatly in your kitchen when you don't. If you need more space to store appliances and dishes, you'll want to look for portable kitchen islands that include adjustable shelves, drawers and racks. Portable kitchen islands with doors will hide your storage from sight and keep your kitchen looking clean.


Decide on a finish you like
Kitchen carts and islands are made from various types of wood and are also frequently made of stainless steel and granite. If you're unsure of the kitchen island design to choose, look at the decor and appliances in your kitchen and the rest of your home. A stainless steel kitchen island will complement a contemporary style and work well with other stainless steel appliances. If you'd like a cozier look, buy a wood kitchen island or cart made of teak or birch you can place in the center of the room. You can find a wood kitchen island with a glossy finish for a polished look or a rougher texture if you want a rustic feel. Pull up a few stools or benches to these laid-back kitchen carts and islands to create a comfortable area for chatting with your family or friends.

If you want more detailed information of this product or related problems, please contact with us, we will reply as soon as possible (general in 24 hours)..