Wooden and Metal Frame Kitchen Trolley With Big Storage Cabinet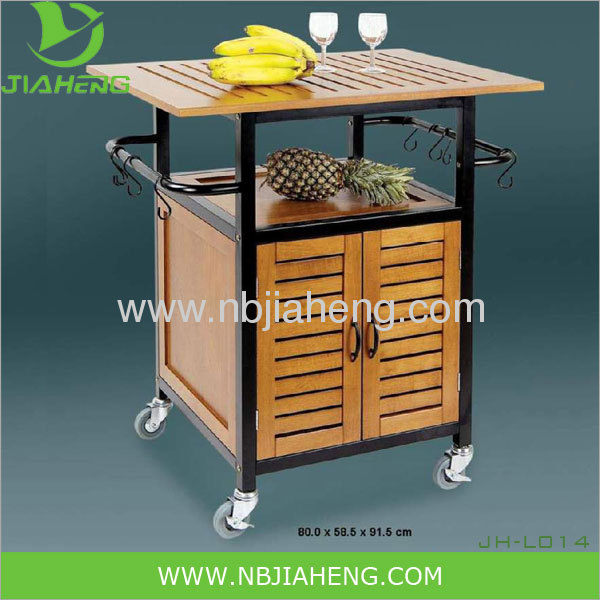 Specifications
*Wooden Kitchen Trolley
*Material: quality pine wood+metal
*Simple & eleglant design
*Multi-functions.
Details
wooden kitchen trolley
Including:
* no drawer
* 1 shelf and with metal frame
* 4 wheels
* 1 cabinet
1. Our trolley is made of solid wood, it is nature and durable.
2. The troleey is suitable for restaurant, kitchen,hotel etc.
3. Nature color with eatable natural varnish finish. The color will not fade.
4.Our trolley has special processed at the high temperature and high pressure.
5.It constructs from square metal tube, with 4 wheels.

Dimension: Other size can accept


Packing: K/D, each part wrapped with EPE and bubble bag and then into an ordinary export carton.
Finishing: white lacquer
MOQ: it can negotiate
Delivery date: 40 days after your 30% deposit or L/C
Wooden and Metal Frame Kitchen Trolley With Big Storage Cabinet
Our advantage: High quality,Sample and usful design, economic and strong structure K/D structure, easy for assembling.
They say the kitchen is the heart of a home, but in many homes, the kitchen is also the single biggest energy drain. Kitchen lighting, refrigeration and cooking consume about 41.5 percent of the total home energy use. Add to that total the other energy consumed in your kitchen, like space heating, cooling and water heating, and your kitchen is quite the energy hog. Creating an eco-friendly kitchen includes your choice of appliances, but it also goes beyond that; the floors, paint, pots and pans and other kitchen items you use can make your kitchen eco-friendly as well. This green kitchen buying guide will help you learn more about how to make your kitchen more energy efficient and environmentally friendly.
Lead-free dinnerware: The federal standard for lead in dinnerware is three parts per million (ppm); it is 0.2265 ppm in country. If you have older dinnerware, chances are it contains lead. Do yourself and your family a favor by upgrading your dinnerware to lead-free dinnerware. Also look for lead-free crystal and serveware.
Customized orders and new designs are welcomed. Our product are of high quality, which we believe they will meet your demand and satisfy you.
Wooden and Metal Frame Kitchen Trolley With Big Storage Cabinet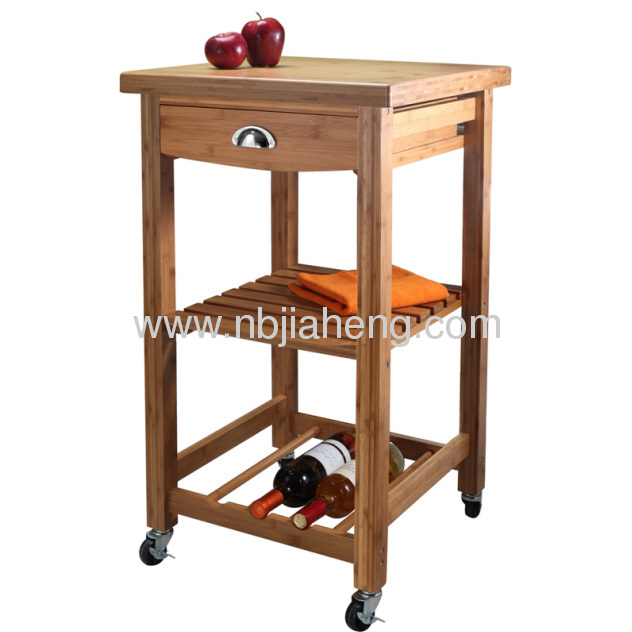 How to Equip a Green Kitchen:
Energy-efficient appliances: Go green in your kitchen with Energy Star qualified kitchen appliances. Appliances certified by Energy Star use 10 to 50 percent less energy and water than standard models. Energy Star appliances meet strict energy-efficiency guidelines set by the Environmental Protection Agency and US Department of Energy. For more information, check out energystar.gov.


Energy-efficient doors and windows: Nothing runs up heating and cooling bills like a drafty door or window. Even skylights can add to your energy bill. Check your weather stripping every year. Replace window and door seals that are cracked or missing. Also, if doors and windows are old and thin, replace them with doors that are thicker and offer more insulation or with double-paned windows.


Energy-efficient lighting: The most energy-efficient lighting choices for your kitchen are compact fluorescent lighting and LED lighting. Compact fluorescent lighting has come a long way since the dim office lighting of years ago. This lighting simulates natural light, reduces eye stress and fatigue, has low heat emission and will ultimately save you money. LED lighting works well for under-cabinet lighting, and it uses the least energy of all.


Induction stovetops: Induction stovetops are specialty appliances that use electricity to produce a magnetic field which reacts to the iron content of your cookware to produce heat. Induction stovetops can be used with stainless steel, cast iron and enameled steel cookware. Induction cooking uses about 90 percent less energy than gas and radiant electric stoves. Although induction cooking is pretty new, look for new advances and price reductions to come along soon.


Eco-friendly flooring: Popular eco-friendly flooring choices include cork and bamboo. Cork is a great thermal and acoustic insulator. It has a great memory, meaning it will spring back when dented, and it is soft underfoot. Bamboo flooring is made from quick-growing bamboo stalks and offers the same beautiful look you can get from wood. For either flooring material, use nontoxic glue. Many other items you might use in your kitchen, from window shades to serving bowls, are also made of these materials.


Recycled countertops and backsplashes: Recycled materials make beautiful countertops and backsplashes: recycled glass, recycled porcelain, concrete and resin or a mix of all of them. Bamboo is also used to make countertops, and butcher block countertops made from certified and rediscovered forest products are also very popular. Resin recycled paper composites are gaining steadily in popularity, too. All of these recycled products make great countertops and backsplashes.
If you want more detailed information of this product or related problems, please contact with us, we will reply as soon as possible (general in 24 hours)..