New Brand Bamboo Kyoto Kitchen Trolley Good Quality Multi Funtion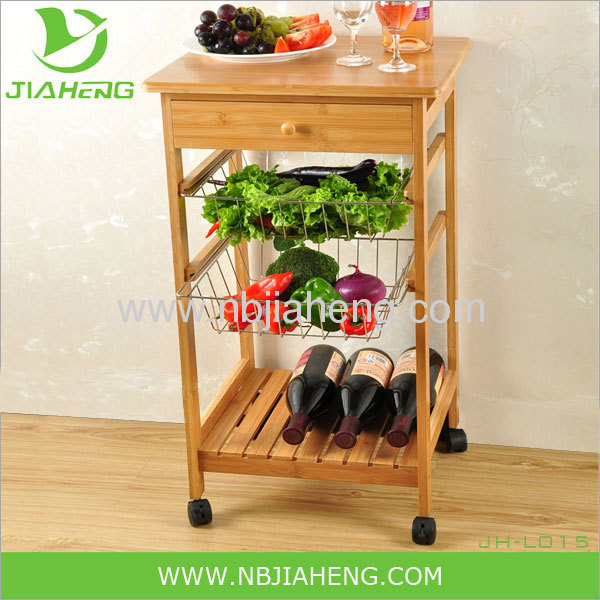 Specifications
*Wooden Kitchen Trolley
*Material: quality Bamboo
*Simple & eleglant design
*Multi-functions.
Details
Bamboo kitchen trolley
Including:
* 1 drawer
* 3 shelf and with bamboo top
* 4 wheels
* 2 baskets
1. Our trolley is made of bamboo, it is nature and durable.
2. The troleey is suitable for restaurant, kitchen,hotel etc.
3. Nature color with eatable natural varnish finish. The color will not fade.
4. Our trolley has special processed at the high temperature and high pressure.
5. It constructs from bamboo frame, with 4 wheels.

Dimension: Other size can accept


Packing: K/D, each part wrapped with EPE and bubble bag and then into an ordinary export carton.
Finishing: white lacquer
MOQ: it can negotiate
Delivery date: 40 days after your 30% deposit or L/C
Our advantage: High quality,Sample and usful design, economic and strong structure K/D structure, easy for assembling.
New Brand Bamboo Kyoto Kitchen Trolley Good Quality Multi Funtion
Some people don't think that children and cookware are two things that go together. However, getting children involved with cooking offers great benefits, including enjoying your time cooking, promoting family time together and encouraging kids to eat a variety of foods. When children take part in making meals, they are much more likely to eat them. Having a few pieces of kids' cookware and preparation tools can make this time together in the kitchen safe and fun.
Look for furniture that can take advantage of wasted space. If your kitchen is feeling a little cramped, you'll want to buy small kitchen furniture that fits the size of the room and leaves you enough walking space. Corner benches allow you to use empty corners for seating and can even take the place of kitchen chairs when you place a sturdy, square kitchen table in the center of the benches. A corner kitchen hutch gives you more cabinet space and doesn't take up too much space. Save even more room by installing a kitchen bar opposite your refrigerator and cabinets and adding three or four bar stools. Guests will enjoy this modern kitchen furniture because they can help the host or hostess with the meal and chat while the food is cooking.
Customized orders and new designs are welcomed. Our product are of high quality, which we believe they will meet your demand and satisfy you.
New Brand Bamboo Kyoto Kitchen Trolley Good Quality Multi Funtion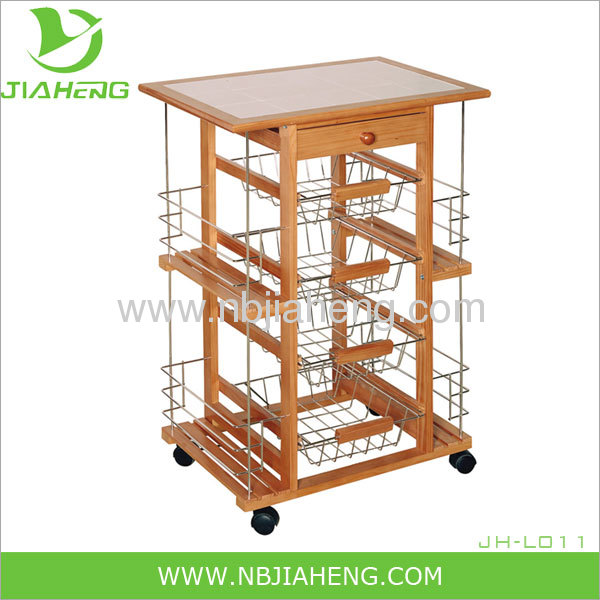 Green Kitchen Buying Guide
:
Recycled countertops and backsplashes: Recycled materials make beautiful countertops and backsplashes: recycled glass, recycled porcelain, concrete and resin or a mix of all of them. Bamboo is also used to make countertops, and butcher block countertops made from certified and rediscovered forest products are also very popular. Resin recycled paper composites are gaining steadily in popularity, too. All of these recycled products make great countertops and backsplashes.


Low-flow faucets or an aerator: Adding an aerator to your faucet is one of the best and least expensive ways to increase water conservation in your home. Water pressure is not noticeably affected. If you already have an aerator installed, its flow rating should be on the side and should read 2.75 gallons per minute (gpm) or lower. If it is over 2.75 gpm, replace it. Most faucets are threaded to accept aerators.


New pots and pans: Metal leaches out of pots and into our food. Most of the time, it is in small amounts, but for a green kitchen, even small amounts count. Use inert cooking utensils like glass or porcelain-enameled steel or iron. Replace your worn or scratched cookware with new cookware, but be cautious; avoid high heat with nonstick coatings and remember that acidic foods, like tomatoes, leach metals from pans.


Creative uses for old things: Your old pots and pans and dinnerware make great camp cookware when they are no longer used in your kitchen. You can also remove the handles from lighter frying pans and use them as a back-up dish for camping trips. For other ways to reuse household items.


Reusable kitchen accessories: To really say you have a green kitchen, follow the mantra of reduce, reuse, recycle. Don't waste money on paper plates and plastic forks that are just thrown away. Instead, invest in long-lasting, quality kitchen items, such as cloth napkins, reusable coffee filters for coffee machines, tote bags for shopping and reusable lunch box containers.

If you want more detailed information of this product or related problems, please contact with us, we will reply as soon as possible (general in 24 hours)..