Product:
Romantic 4 Color LED Light Rain Shower Heads Factory


Product Description:
1. 10" square design modern style
2. With 12pcs LED inner light
3. Full body solid brass material with chrome plated
4. With swivel ball joint to make different angle
5. You have a nice bath with rain shower sprayer
Romantic temperature sensor RGB led rainfall shower head:
1. The inside device will be generating electricity by the water flow, LED will emit the light,no wiring and no batteries needed.
2. When water goes through the shower head,the LED will light instantly and automatically by the water temperature:
A. When the water temperature is ≤29c, LED will show Blue color automatically
B. When the water temperature is between 30c~39c, LED will show Green color automatically
C. When the water temperature is between 40c~49c, LED will show Red color automatically
D. When the water temperature is ≥53c, LED will flash frequency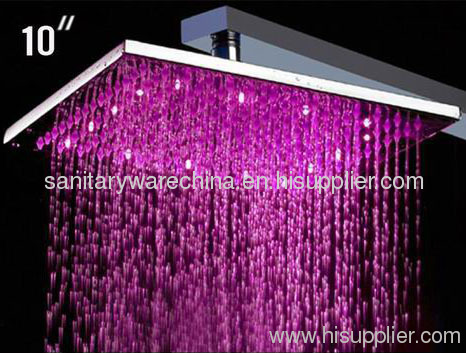 Romantic 4 Color LED Light Rain Shower Heads Factory