Product:
New Design Durable Led 3 Color Rain Fall Shower Head

Feature:
Stylish style large size 16 inch square led light rainfall shower head
1. NEW design overhead shower via the LED light the color of the water changes, quite automatically, without batteries.
2. 3 color change by the water temperature
3. It is a beautiful and nice shower head. Made with the highest quality copper brass and chrome plated for the perfect finish
Remarks:
1. Energy saving, color changes according to the temperature of the water running it,no battery no wire:
Below 29 degree:blue color
Between 30 to 39 degree,green lights on
Between 40 to 54 degree,red lights on
Over 55°C, red lights will flash frequency
Safe use without batteries,only water powered
2.When the order of shower heads is confirmed,we will send you the products within 20 days.
3. Sample is available,please try your market at first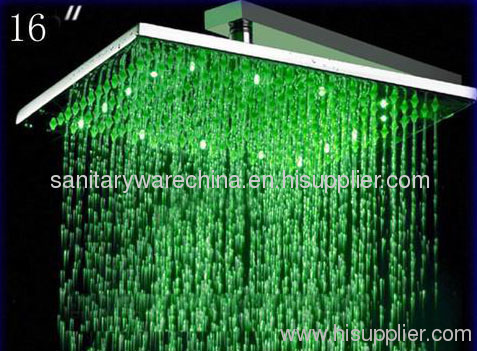 New Design Durable Led 3 Color Rain Fall Shower Head