Product:
20" Copper Chrome LED Rain Showerhead Withour Battery


Products Details:
2. Made by full solid brass
3. Supplied with all fittings for easy install
4. It should be ceiling mounted due to the weight of these items.But you also can order our shower rail or shower arm to fit with the big showerhead
More Information:
1. Don't need battery or the power cable, connected to water after the shower head spraying water at the moment will be issued by the gradual change in different colors light
it will show blue when the water temperature is below 32°C
it will show green between 33°C ~ 41°C,
it will show red between 42°C ~ 45°C,
When water temperature is above 46 degree, the red Led light starts flashing , be careful burns.
2. Swivel connection(with our shower set and shower arm) ,so you can tilt to 15 degrees
Do you know we use only the highest quality brass material?
Our factory tests the brass to ensure it features at least 59-62% copper. We only use a minimum of 59% to ensure the longevity of your showerhead, the higher copper content the better rust resistance, so it means your showerhead won't rust after 6 months or more long time.Similar shower heads on the market only has 55-58% copper,it is low quality.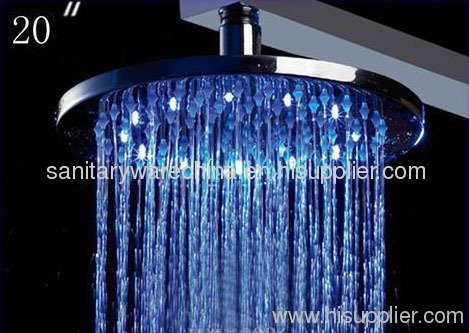 20" Copper Chrome LED Rain Showerhead Withour Battery