Product:
LED Light Hand Shower Water Massage China Manufacturer


Products Feature:
1. No battery or electricity required
2. ABS chrome plated shine surface finish
3. 2 functions setting:massage or rain spray
4.We can supply sample order to our customers
Detailed Description:
LED lighting colour: Rainbow colors showing changed as time goes
1. When the built-in device generating electricity by the water flow,LED will show the light.
2. Two functions are available for the water flow. You can set the function not only the inner-ring cross but also the outer-ring diffusion.
3. The light can change one color every 3 to 5 seconds so that the rainbow colors are showing gradually.
4. The built-in flow regulating valve can control water pressure effectively and improve the service life of motor hugely, as well as save water. Besides, the filter screen designed inside the flow regulating valve can filter the impurities in water, improve water quality and protect the motor rotor from being damaged.
5. Regular working hydraulic pressure: 0.1-0.5MPa
6. Make water colorful and beautiful to bring you good feeling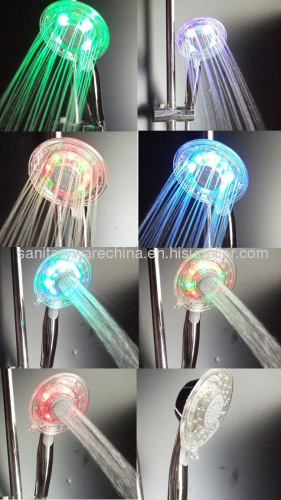 LED Light Hand Shower Water Massage China Manufacturer