JIS F7334 Marine Bronze Hose Globe Valve 5K

Product Introducton
The products are used for controlling the medium to open and close, preventing refluence in fuel oil , lubricating oil, water and steam piping at or under the temperature of 205℃. The flange dimensions are according to JIS B2220 standard of steel pipe.
TECHNICAL SPECIFICATION
Manufactured in accordance to JIS F7400
Flanges as per JIS B2220 - 5K
Nakajima Sistem Coupling
Screwed bonnet for sizes DN 15 – DN 25
Bolted bonnet for sizes DN 40 – DN 65
If you are interested in our products and want to know more, please contact with us. We will reply as soon as possible.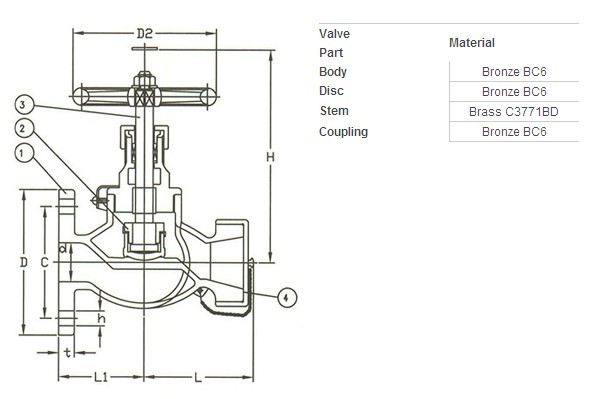 Overall&Structure Dimensions


IMPA
CODE
DN

L
L1
D
C
No. of Bolt Holes
h
t
H
D2
D3
75 17 01
15
73
50
80
60
4
12
9
129
80
M42x2
75 17 03
25
78
60
95
75
4
12
10
161
125
M42x2
75 17 11
40
128
80
120
95
4
15
12
193
140
M52x2
75 17 16
50
160
105
130
105
4
15
14
256
160
M64x2