Metal dome membrane switch

Metal dome diameter
1.8.4mm
2.10mm
3.12.2mm
4.16mm
Feature:
.Good touch feeling metal dome membrane switch
.Second surface screen printing.
.Scratch resistant
.With LCD or LED window
.Fog or glossy surface finish
.Waterproof and UV resistance
Overlay Materials: The most commonly used base materials are polyester and polycarbonate.
Rear Adhesive: 3M 467MP, 3M 468MP, etc.
Standard Tolerances: +/-.010 inch.
Matching color: Pantone and RAL color matching system.
Tail, pin and circuit layout: subject to customers detailed requests.
Electrical
·Operating Voltage: 0-35 V DC.
·Operating Current: 100 MA Max.
·Operating Contact Resistance: Less than 100 OHMS typical
·Contact Bounce: Less than 5 Milliseconds typical.
·Conductors: Printed silver conductive inks or carbon blend.
Mechanical
·Life Expectancy: 1,000,000 actuations per switch position
·Actuation Force:170-700g, Range depending on customer specification.
·Switch Travel: .0.1mm-0.4mm typical.
·Overall Thickness: .0.6mm-1.52mm typical.
Environmental
·Storage Temperature: -40°C to +65°C
·Operating Temperature and Altitude: -40°C to +65°C
·Humidity: No delamination after 24 hours at 80°C and 90%RH.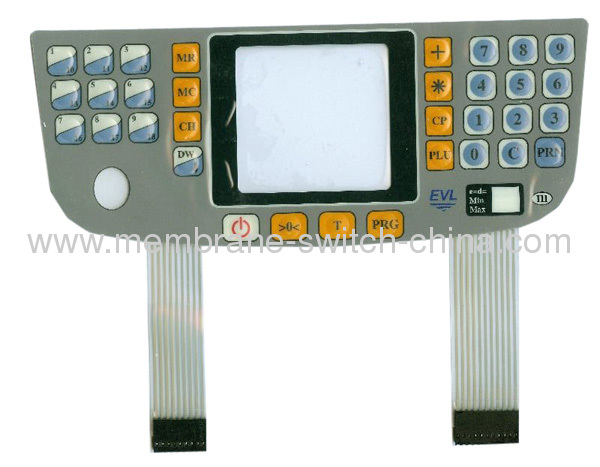 Metal Dome Membrane Switch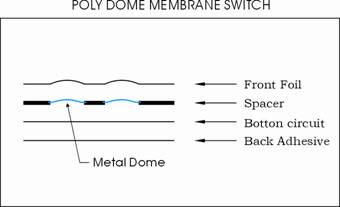 Product Selection Guide:
12.2mm Four Legged Domes (12.2-4-LEG Series)
Diameter : 12.2mm
With and without dimple
Force : 220 / 280 / 340 grammes
Plating : nickel plating of 0.1 microns or optional one side gold plated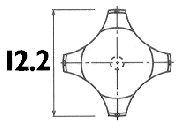 8.4mm Four Legged Domes (8.4-4-LEG Series)
Diameter : 8.4mm
With and without dimple
Force : 220 / 280 grammes
Plating : nickel plating of 0.1 microns or optional one side gold plated
6mm Four Legged Domes (6-4-LEG Series)
.Diameter: 6mm
.With and without dimple
.Force : 170 grammes
.Plating : nickel plating of 0.1 microns or optional one side gold plated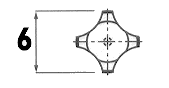 5mm Round Domes (5-R Series)
.Diameter : 5mm
.With and without dimple
.Force: 150 & 180 grammes
.Plating : nickel plating of 0.1 microns or optional one side gold plated

4mm Round Domes (4-R Series) - available late 2001
.Diameter : 4mm
.With and without dimple
.Force : 180 grammes
.Plating : nickel plating of 0.1 microns or optional one side gold plated