Brass 90 Degree Male Thread Fittings


***Technical Specifications:
1) Material: Brass
2) Working Pressure: 1.6MPa
3) Working Temperature: -10 ~ 110℃
4) Pipe Thread: BSPP,BSPT,NPT
5) Suitable For Water, Oil,Gas
5) Specifications:

Model No.
Male Thread
Model No.
Male Thread
S49x4x2
1/4"x1/8"
S49x4x4
1/4"x1/4"
S49x5x4
5/16"x1/4"
S49x5x5
5/16"x5/16"
S49x6x4
3/8"x1/4"
S49x6x6
3/8"x3/8"
S49x6x8
3/8"x1/2"
S49x8x6
1/2"x3/8"
S49x8x8
1/2"x1/2"
S49x8x12
1/2"x3/4"
S49x12x8
3/4"x1/2"
S49x12x12

3/4"x3/4"

S49x12x16
3/4"x1"
S49x16x12
1"x3/4"
S49x16x16
1"x1"




***Classification of brass fittings:
1.According to connection points
Divided into socket weld, threaded, flange fittings
2.According to using
Divided into plumbing fittings, air-conditioning pipe fittings, refrigeration pipe fittings
3.According to Material
Divided into copper, brass, bronze
4.According to function
Divided into tube fittings, reducer fittings, 90 ° elbows, 45 ° elbows, tees, reducers tees, four joints, reducing the four-way connector, union (valve conversion on the joints), flange, clamp.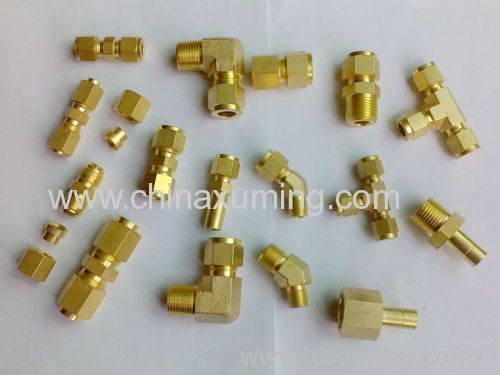 ***Process: Drawings - carved moulds - Purchase of raw materials - cutting - Forged - Trimming - throwing sand - machine finishing - pickling or nickel-plated - Inspection - Packaging - shipment
***WORKSHOP AND MATERIAL