PVC double pipe extrusion line specification:
PVC twin pipe extrusion line se conical double or four screw extruder, equip with different die and mould andassistant machine to produce two pipe at the same time. the extrusion line can make small diameter pipe ofhigh quality in excellent productivity and fast. so this pvc pipe is widely use in electrical cable coating pipe inbuilding.
PVC Twin Pipe Production Line:
1.diameter:16-50mm
2.output: 120-250kg/h
3.stable running station
4.1.5year guarantee time
PVC Twin Pipe Production Line
The PVCTwin Pipe Prodction Line is mainly used for the PVC electrical conduit pipesextruding, and thepipes diameter range from 16-50mm.
The wholeproduction line includes the following major parts:
1. SRL-ZPVCMixer
2. SJSZ-PVCconical twin screw extruder
3.PVC twin pipes moulds 16-50mm
4. Vacuummoulding machines
5. Haulingoff machine & cutting machine
6.Stacker
7. Pipescrushing machine
8. PVCmilling machine
| | | |
| --- | --- | --- |
| PipeRange | 16-50mm(single) | 16-50mm(double) |
| Extruder type | SJZ51/105 | SJZ65/132 |
| Motor power | 18.5KW | 37KW |
| Capacity | 120kg/hour | 250kg/hour |
| Lineal speed | 12m/min | 10m/min |
| Production time | 45Days | 45Days |
| Guarantee period | 1.5Year | 1.5Year |
PVC double pipe production line conical twin screw extruder:

PVC double pipe extrusion line double-out mould: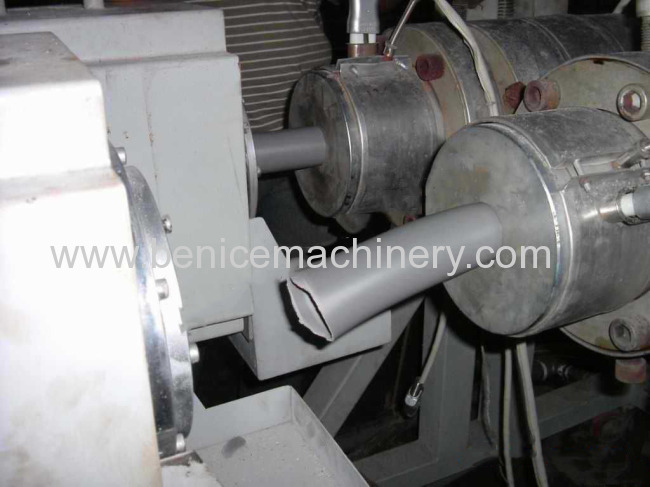 PVC double pipe extrusion line haul-off machine and cutter