product name:
Large Neodymium Ring Magnets

NdFeB is a type of rare-earth permanent magnet. It is madefrom an alloy of neodymium, iron, and boron to form theNd2Fe14B tetragonal crystalline structure. This materialis currently the strongest type of permanent magnet in the world.
Nd-Fe-B permanent magnet is manufactured in a wide rangeof shapes, sizes and grades according customer'sdemand.

permanent magnet ring has a very high energyproduct and coercivity, can pick up 660 times of own weight of heavy objects.

The advantage is high cost-effective, with good mechanical properties, easycutting; according customer's demand to manufacture in a wide range of shapes,sizes and grades.
The shortcoming is the low of the Curie temperature and the temperaturecharacteristics, easy to rust, oxidation, Sintered NdFeB's surface is usuallyrequired for plating such as zinc, nickel, silver, gold, etc., can also be donephosphorus treatment or spray epoxy resin to slow down the oxidationrate.
Pls see the compare of the coating's results: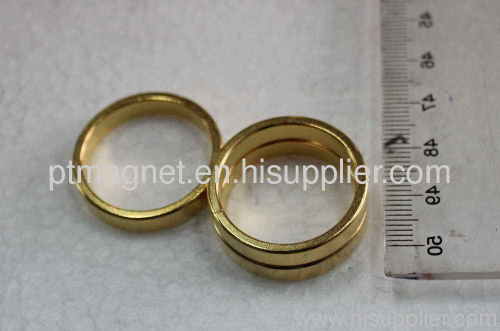 Large Neodymium Ring Magnets