product name:
Arc Sintered NdFeB Magnet

feature

1.stable performance
2.good corrosion resistance
3.high working temperature
4.complex shape with precision size
1. Materials:Neodymium-Iron-Boron magnets (Ndfeb magnet)
2. Certification: ISO9001:2000
3. Magnetic properties: High coercive force, (BH)max from 33 to 53MGOe, max working
temperature up to 230°C.
4. Grades: N33-N52,33M-48M,33H-48H,30SH-45SH,30UH-38UH, 30EH-35EH;
5. Shapes: Segment/ Arc,
6. Sizes:R x r x H x Degree, Customized;
7. Coatings:Ni, Zn, gold, copper, epoxy, chemical, parylene and so on;
8. Applications:Widely used in motors, rotors, wind turbines/wind generators, etc.
9. Parameters: Grade(property), Size(R x r x H x Degree) or Drawing, Coating, Quantity, Etc.
10.Note:OurNdFeB arc magnet is customized, glad to give some suggestions if you need.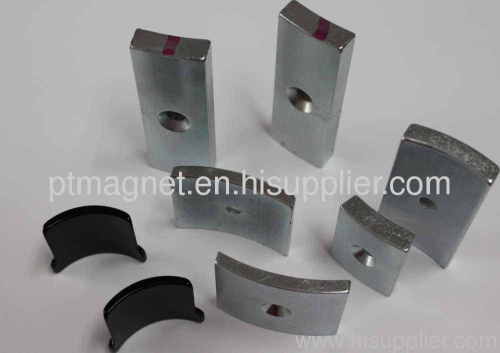 Arc Sintered NdFeB Magnet