The
ceramic fiber rope
is processed with ceramic fiber spun bulk, alkali-free glass filament and high-temperature resistant stainless alloy wires through special processing.

Ceramic fiber round braided rope

Product Features
Good handling strength
Low thermal conductivity and heat storage
Excellent thermal shock resistance
Easy machining
Low weight
Elastic
Flexible
Excellent hydrophobic property
Smooth surface and anti-tearing
at about 750 °F (400 °C). TangCera® ceramic fiber textiles also contain reinforcement insert materials of either inconel wire or continuous fiberglass filament to increase handling strength during installation and enhance fiber durability to rated temperatures of 2000 °F (1093 °C) for inconel wire and 1200 °F (649 °C) for fiberglass filament.
Technical Data:
| | | | | |
| --- | --- | --- | --- | --- |
| Chemical Contents | Cloth | Tape | Square & Round Braided Ropes | Twisted Rope |
| Alumina - Al2O | 47 | 47 | 47 | 47 |
| Silica - SiO2 | 53 | 53 | 53 | 53 |
| Boron Oxide - B2O3 | - | - | Trace | Trace |
| Calcium Oxide - CaO | - | - | Trace | Trace |
| Magnesium Oxide - MgO | - | - | Trace | Trace |
Item

Cloth

Tape

Square & Round Braided Ropes

Twisted Rope

Color

White

White

White

White

Width (inch)

40,48, 60

1/2, 1, 2, 3, 4, 6, 7,8

-

-

Normal Section or Diameters (Inch)

-

-

1/4, 3/8, 1/2, 5/8, 3/4, 1, 1.25, 1.5, 2

1/4, 3/8, 1/2, 5/8, 3/4, 1, 1.25, 1.5, 2

Normal Thickness (inch)

1/8

1/8

-

-

Density (PCF)

-

-

33-36

20-33

Tensile Strength grip lb/f

63

58

110-150

75-100

Melting Point °F

3200

3200

3200

3200

Continuous use up to °F

2300 (wire)
1200 (Glass)

2300 (wire)
1200 (Glass)

2300

2300

Temperature Limit of Insert Material

2000 (wire)
1200 (Glass)

2000 (wire)
1200 (Glass)

-

Ceramic fiber round braided rope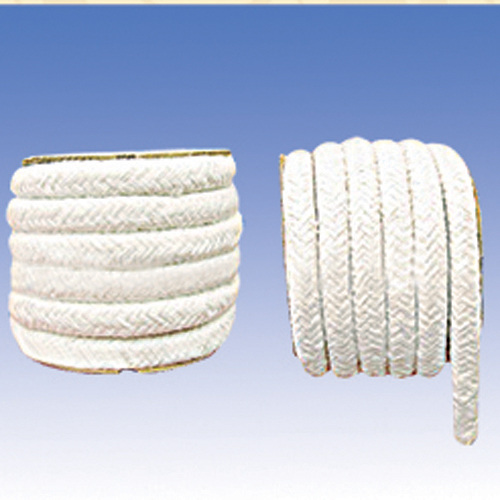 more views of company: