Refractory Heat Insulation Ceramic Fiber Rope
The Product Description:
Ceramic fiber rope includes twisted rope, round braided rope and square braided rope. All are made from our high quality ceramic fiber material. They can be used for high temperature applications up to 2300 F. The rope is reinforced with fiberglass filament, and optional Inconel/alloy steel wire. Ceramic fiber textiles (cloth, tape and rope) contain a certain amount of binder material which is normally burned at lower temperature and does not affect the insulation property.The three different styles are designed to fit different application needs: twisted rope is a soft rope, while square and round braid are more dense and solid.
Technical characteristics:
1.Excellent high temperature stability
2.Excellent tensile strength
3.Excellent thermal electrical insulation
4.Excellent chemical stability resistance
5.Low thermal conductivity.
Application:
1.Insulation of high-temperature tubes, containers,etc.
2.The seal of the doors of industrial furnace
3.The protection of high-temperature.
4.The protection of cable, fuel tubes,etc.
5.Fireproof twine, wrap,cover,etc.
6.Compound-materials produce.

Refractory Heat Insulation Ceramic Fiber Rope

Technical data:
Classification temperature

1260

Product

1260 Ceramic fiber round braided rope

1260 Ceramic fiber square braided rope

Service temperature(°C)

450

1000

450

1000

Basic material

Ceramic fiber

Ceramic fiber

Ceramic fiber

Ceramic fiber

Fiberglass reinforced

stainless steel reinforced

fiberglass reinforced

stainless steel reinforced

Theoretical density(kg/m3)

400-600

400-600

400-600

400-600

Specification(mm)

Diameter 5 , 6 , 8 , 10 , 12 , 14 , 15 , 16 , 18 , 20 , 25 , 30 , 35 , 40 , 45 , 50mm

5*5 , 6*6 , 8*8 , 10*10 , 12*12 , 14*14 , 15*15 , 16*16 , 18*18 , 20*20 , 25*25 , 30*30 , 35*35 , 40*40 , 45*45 , 50*50mm

Moisture content(%)

≤2

Delivery state

Roll

Organic content(%)

≤15

Refractory Heat Insulation Ceramic Fiber Rope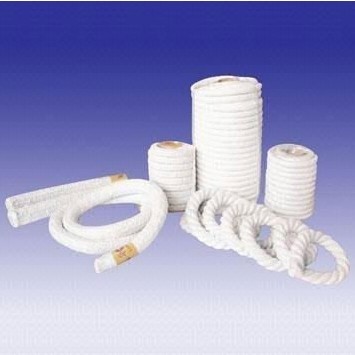 views of company:
making machine of ceramic fiber tape:
ceramic fiber tape details: