Rubber Seat Wafer butterfly valve

Product Overview
The product is composed of rubber seal butterfly valve, carbon steel or stainless steel disc and spindle. It is used in water or gas pipelines of food, medicine, chemical, petroleum, electric power, light textile, papermaking and so on, to open or close medium, working temperature ≤120℃. Its main characteristics are as follows:
1. It is new and rational in design, spectacular in structure, light in weight, fast in opening and closing.
2. Small torque, easy operation, flexibility.
3. Any position installation, convenient maintenance.
4. Seal part is replaceable, and seal capacity can achieve dual seal and zero leakage.
5. Seal materials are ageing resistant and weak corrosion resistant with a long working life.
Technical Standard

1.Nominal Dimension : DN40-DN300 / 1.5"-12"
2.Nominal Pressure : PN10/16 Class125/150LB
3.Suitalbe Medium: Flesh Water,Sewage, Sea Water,Air,Vapor,Food,Mediaine,Oils, Alialis,Salt,etc
4.Suitable Temperature : -20℃ to +150℃
5.Design Standard : API609,BS5155, EN593,MSS SP-67
6.Face to Face : API609, DIN3202 K1,ISO5752, BS5155
7.Flange Connection : AS2129"D""E", BS10"D""E",JIS10K/16K,
ASME B16.1 125LB,ASME B16.5 150LB,
BS4504, DIN2501, PN10/16
8.Test Inspection : API598, EN12266-1
If you are interested in our products and want to know more, please contact with us. We will reply as soon as possible.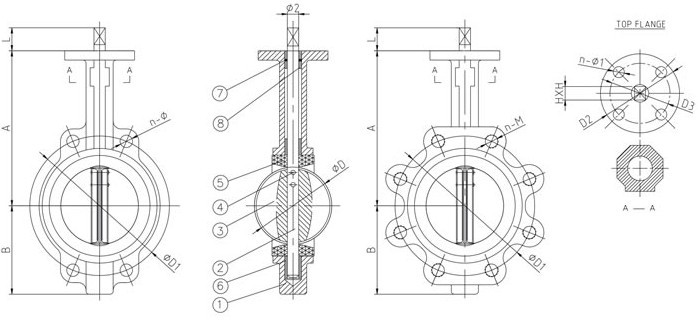 | | | | | | | | | | | |
| --- | --- | --- | --- | --- | --- | --- | --- | --- | --- | --- |
| DN(mm) | A | B | D | L | D1 | D2 | D3 | n-¢1 | ¢2 | H |
| 40 | 110 | 70 | 42.6 | 32 | 110 | 77 | 50 | 4-10.3 | 12.6 | 9 |
| 50 | 161 | 80 | 52.6 | 32 | 120 | 77 | 50 | 4-10.3 | 12.6 | 9 |
| 65 | 175 | 89 | 64.3 | 32 | 136.2 | 77 | 50 | 4-10.3 | 12.6 | 9 |
| 80 | 181 | 95 | 78.8 | 32 | 160 | 77 | 50 | 4-10.3 | 12.6 | 9 |
| 100 | 200 | 114 | 104 | 32 | 185 | 90 | 70 | 4-10.3 | 15.77 | 11 |
| 125 | 213 | 127 | 123.3 | 32 | 215 | 90 | 70 | 4-10.3 | 18.92 | 14 |
| 150 | 226 | 139 | 155.7 | 32 | 238 | 90 | 70 | 4-10.3 | 18.92 | 14 |
| 200 | 260 | 175 | 202.4 | 45 | 295 | 125 | 102 | 4-14.3 | 22.1 | 17 |
| 250 | 292 | 203 | 250.42 | 45 | 357 | 125 | 102 | 4-14.3 | 28.45 | 22 |
| 300 | 337 | 242 | 301.5 | 45 | 407 | 140 | 102 | 4-14.3 | 31.6 | 22 |
| 350 | 368 | 267 | 333.5 | 45 | 467 | 140 | 102 | 4-14.3 | 31.6 | 22 |