144 fibers to 576 fibers Outdoor stainless steel fiber cabinet

Order Data

| | | |
| --- | --- | --- |
| ITEM NO | UNIT | DESCRIPTIONS |
| TP-3405-144 | pcs | Outdoor fiber cabinet, 144 fibers, max 144 fibers, free standing, stainless steel housing, with splice tray, without adaptor, pigtail |
| TP-3405-288 | pcs | Outdoor fiber cabinet, 288 fibers, max 288 fibers, free standing, stainless steel housing, with splice tray, without adaptor, pigtail |
| TP-3405-576 | pcs | Outdoor fiber cabinet, 576 fibers, max 576 fibers, free standing, stainless steel housing, with splice tray, without adaptor, pigtail |
Main Features

1) Modular design, easy installation and maintenance.
2) Spacious room, easy operatoions.
3) Cable are inleted and outleted from the bottom.
4) Closure design, with protection grade at IP54.
5) There are grommets at both inlets and outlets.
6) Reliable elements for the fixing, splcing and earthing.
7) Doubled metal sheet for the whole cabinet, great strength.
8) Rubber furring are used for the connection parts between the body and the door, thus sound sealing and moisture protection achieved.
9) Powder coated, anti corrosion and beautiful apperance.
Technical Parameters

1) Environment temperature: -55℃~+55℃
2) Relative humidity: <95%(30℃)
3) Atmospheric pressure: 70~106Kpa
4) Metal sheet thickness: 1.5mm
5) Insulation resistance: ≥1000MΩ(500VDC)
6) Dielectric Strength: ≥3000V (45-60 Hz, AC, 1 minute, without any spark over and flying arc)
7) Insertion loss: ≤0.25db
8) Return loss: PC>50dB UPC>50dB APC>65dB
9) Bending radius: ≥ 37.5 mm
10) Connection life span: >1000 times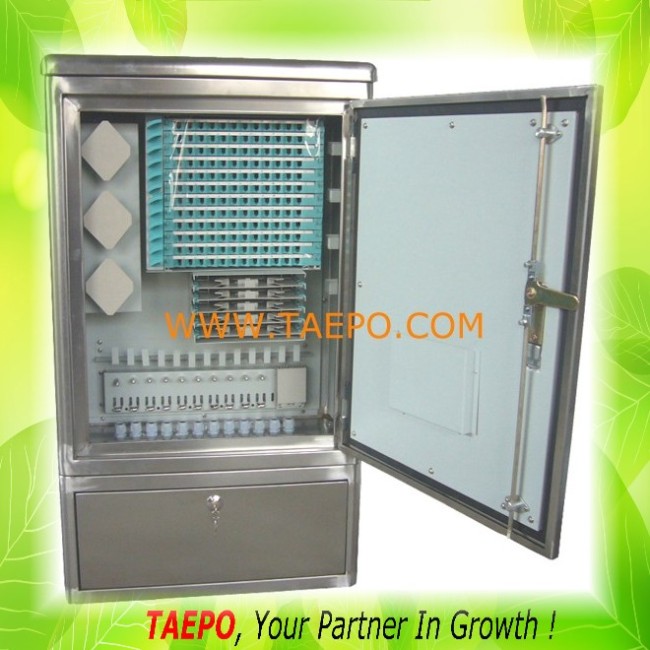 144 fibers to 576 fibers Outdoor stainless steel fiber cabinet