Sintered NdFeB Magnets

Rare Earth Magnets are including Neodymium(Nd) -Iron(Fe)-Boron(B) types and Samarium(Sm)- Cobalt(Co) classes. The most commonly produced material is neodymium-iron-boron (NdFeB). This group of magnetic materials provides the highest available magnetic energies of any material. NdFeB magnets allow small shapes and sizes with high magnetic fields. Energy product range from 28 MGOe to about 52 MGOe.

Characteristics
*Extreme strong Br Resident induction.
*Excellent demagnetization resistance capability.
*Good Price relative to its high magnetic properties.
*Coating is needed for NdFeB
Surface Treatment Method: Type Information
Metallic Zinc, Nickel, Nickel+Nickel, Copper+Nickel, Nickel+Copper+Nickel,
Gold, Organic Epoxy, Nickel+Epoxy coating
Temporary Surface: Passivation

Sintered NdFeB Magnets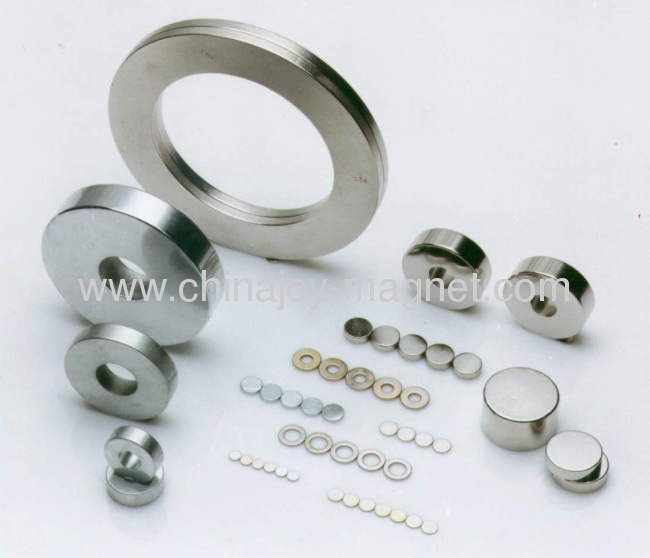 NdFeB Magnetof Magnetic grade :

Grade

BrmT(kGs)

HcbkA/m(kOe)

Hcj kA/m (kOe)

(BH)max kJ/m3
(MGOe)

Supreme work

temperature(Tw)

N33

1130-1170(11.3-11.7)

≥ 836 ( ≥ 10.5)

≥ 955( ≥ 12)

247-271(31-34)

80 ℃

N35

1170-1220(11.7-12.2)

≥ 868( ≥ 10.9)

≥ 955( ≥ 12)

263-287(33-36)

80 ℃

N38

1220-1250(12.2-12.5)

≥ 899( ≥ 11.3)

≥ 955( ≥ 12)

287-310(36-39)

80 ℃

N40

1250-1280(12.5-12.8)

≥ 907( ≥ 11.4)

≥ 955 ( ≥ 12)

302-326(38-41)

80 ℃

N42

1280-1320(12.8-13.2)

≥ 915( ≥ 11.5)

≥ 955( ≥ 12)

318-342(40-43)

80 ℃

N45

1320-1380(13.2-13.8)

≥ 923( ≥ 11.6)

≥ 955 ( ≥ 12)

342-366(43-46)

80 ℃

N48

1380-1420(13.8-14.2)

≥ 923( ≥ 11.6)

≥ 876( ≥ 12)

366-390(46-49)

80 ℃

N50

1400-1450(14.0-14.5)

≥ 796( ≥ 10.0)

≥ 876( ≥ 11)

382-406(48-51)

60 ℃

N52

1430-1480(14.3-14.8)

≥ 796( ≥ 10.0)

≥ 876( ≥ 11)

398-422(50-53)

60 ℃

30M

1080-1130(10.8-11.3)

≥ 796( ≥ 10.0)

≥ 1114 ( ≥ 14)

223-247(28-31)

100 ℃

33M

1130-1170(11.3-11.7)

≥ 836( ≥ 10.5)

≥ 1114( ≥ 14)

247-263(31-33)

100 ℃

35M

1170-1220(11.7-12.2)

≥ 868( ≥ 10.9)

≥ 1114( ≥ 14)

263-287(33-36)

100 ℃

38M

1220-1250(12.2-12.5)

≥ 899( ≥ 11.3)

≥ 1114( ≥ 14)

287-310(36-39)

100 ℃

40M

1250-1280(12.5-12.8)

≥ 923( ≥ 11.6)

≥ 1114( ≥ 14)

302-326(38-41)

100 ℃

42M

1280-1320(12.8-13.2)

≥ 955( ≥ 12.0)

≥ 1114( ≥ 14)

318-342(40-43)

100 ℃

45M

1320-1380(13.2-13.8)

≥ 995( ≥ 12.5)

≥ 1114 ( ≥ 14)

342-366 (43-46)

100 ℃

48M

1360-1430(13.6-14.3)

≥ 1027( ≥ 12.9)

≥ 1114( ≥ 14)

366-390(46-49)

100 ℃

50M

1400-1450(14.0-14.5)

≥ 1033 ( ≥ 13.0)

≥ 1114( ≥ 14)

382-406(48-51)

100 ℃

30H

1080-1130(10.8-11.3)

≥ 796 ( ≥ 10.0)

≥ 1353( ≥ 17)

223-247(28-31)

120 ℃

33H

1130-1170(11.3-11.7)

≥ 836 ( ≥ 10.5)

≥ 1353( ≥ 17)

247-271(31-34)

120 ℃

35H

1170-1220(11.7-12.2)

≥ 868 ( ≥ 10.9)

≥ 1353( ≥ 17)

263-287(33-36)

120 ℃

38H

1220-1250(12.2-12.5)

≥ 899 ( ≥ 11.3)

≥ 1353 ( ≥ 17)

287-310(36-39)

120 ℃

40H

1250-1280(12.5-12.8)

≥ 923( ≥ 11.6)

≥ 1353( ≥ 17)

302-326(38-41)

120 ℃

42H

1280-1320(12.8-13.2)

≥ 955 ( ≥ 12.0)

≥ 1353( ≥ 17)

318-342(40-43)

120 ℃

45H

1300-1360(13-13.6)

≥ 963( ≥ 12.1)

≥ 1353 ( ≥ 17)

326-358(43-46)

120 ℃

48H

1370-1430(13.7-14.3)

≥ 995( ≥ 12.5)

≥ 1353( ≥ 17)

366-390(46-49)

120 ℃

30SH

1080-1130(10.8-11.3)

≥ 804( ≥ 10.1)

≥ 1592( ≥ 20)

223-247(28-31)

150 ℃

33SH

1130-1170(11.3-11.7)

≥ 844( ≥ 10.6)

≥ 1592( ≥ 20)

247-271(31-34)

150 ℃

35SH

1170-1220(11.7-12.2)

≥ 876 ( ≥ 11.0)

≥ 1592( ≥ 20)

263-287(33-36)

150 ℃

38SH

1220-1250(12.2-12.5)

≥ 907( ≥ 11.4)

≥ 1592( ≥ 20)

287-310(36-39)

150 ℃

40SH

1240-1280(12.5-12.8)

≥ 939( ≥ 11.8)

≥ 1592( ≥ 20)

302-326(38-41)

150 ℃

42SH

1280-1320(12.8-13.2)

≥ 987 ( ≥ 12.4)

≥ 1592 ( ≥ 20)

318-342(40-43)

150 ℃

45SH

1320-1380(13.2-13.8)

≥ 1003 ( ≥ 12.6)

≥ 1592( ≥ 20)

342-366 (43-46)

150 ℃

28UH

1020-1080 (10.2-10.8)

≥ 764 ( ≥ 9.6)

≥ 1990 ( ≥ 25)

207-231(26-29)

180 ℃

30UH

1080-1130 (10.8-11.3)

≥ 812( ≥ 10.2)

≥ 1990( ≥ 25)

223-247(28-31)

180 ℃

33UH

1130-1170(11.3-11.7)

≥ 852( ≥ 10.7)

≥ 1990 ( ≥ 25)

247-271(31-34)

180 ℃

35UH

1180-1220 (11.8-12.2)

≥ 860 ( ≥ 10.8)

≥ 1990( ≥ 25)

263-287(33-36)

180 ℃

38UH

1220-1250(12.2-12.5)

≥ 876 ( ≥ 11.0)

≥ 1990( ≥ 25)

287-310(36-39)

180 ℃

40UH

1240-1280 (12.5-12.8)

≥ 899( ≥ 11.3)

≥ 1990( ≥ 25)

302-326(38-41)

180 ℃