Product:
12inch audio woofer for loudspeaker WF1201
1. Overall diameter: 315mm
2. Mounting holes diameter: 8-6x8(mm)
3. Bolt circle diameter : 298mm
Specifications:


LOUDSPEAKER
MODEL
WF1201
APPLICATION
All frequency Loudspeakers
Nominal impedance
16 Ohm
Powel handling AES noise
150W
Sensitivity(1w / 1w)
99.5dB
Freqency response
70-17K Hz
Voice coil diameter
38mm(1.5")
Voice coil material
CCAW
Magnet gap depth
9mm
Basket
Cast Aiuminium
THILE-SMALL PARAMETERS
Resonance frequency
FS---82Hz
DC resistance
Re---12 Ohm
Mechanical Q factor
Qms---14.12
Electrical Q factor
Qes---0.62
Total Quality factor
Qts---0.58
Equivalent volume
Vas---52.12L
Moving mass
Mms---0.029kg
Mechanical compl
Cms---0.134 mm/N
BL factor
BL=--17.12 Tesla/m
Effective piston area
Sd---0.0522m2
Max.linear excursion
Xmax---±2mm
Half-space efficiency
Eff---2.90%
MOUNTING INFORMATION
Overall diameter
315mm
Mounting holes diameter
8-6x8(mm)
Bolt circle diameter
298mm
Baffle cut-out diameter
293mm
Overall depth
135mm
Net weight
4.0kg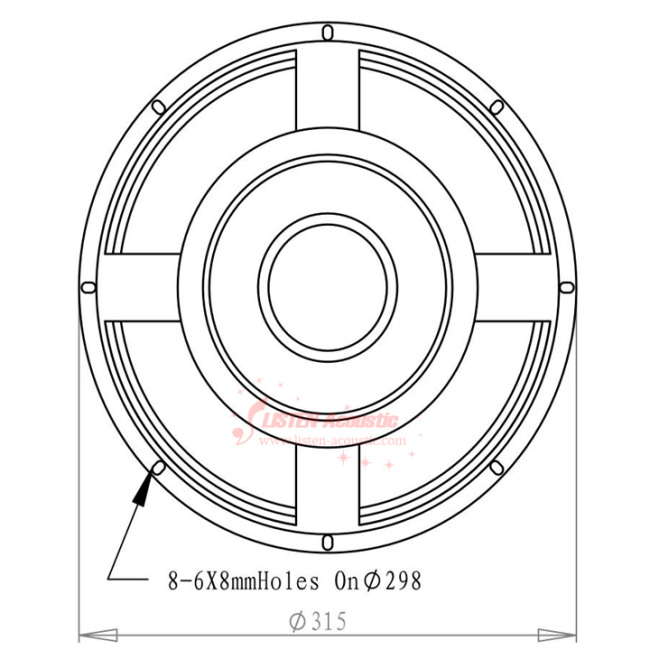 12inch audio woofer for loudspeaker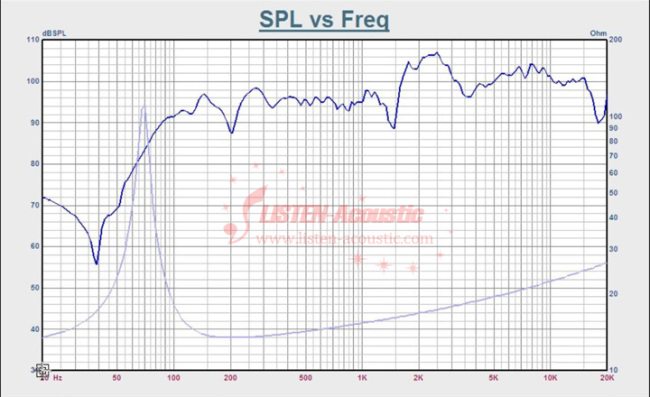 12inch audio woofer for loudspeaker



Advantages to work with Listen-acoustic team:
1) Quality control and Guarantee (focus on details)
2) Full line pro audio One-shop service
3) Minimum OEM/ODM quantity request
4) Shipping on time
If you want more detailed information of this product or related problems,
Please contact us without hesitate, Tel: +86 - 574 - 8786 5631 or Email
We will reply you soon.
Main picture: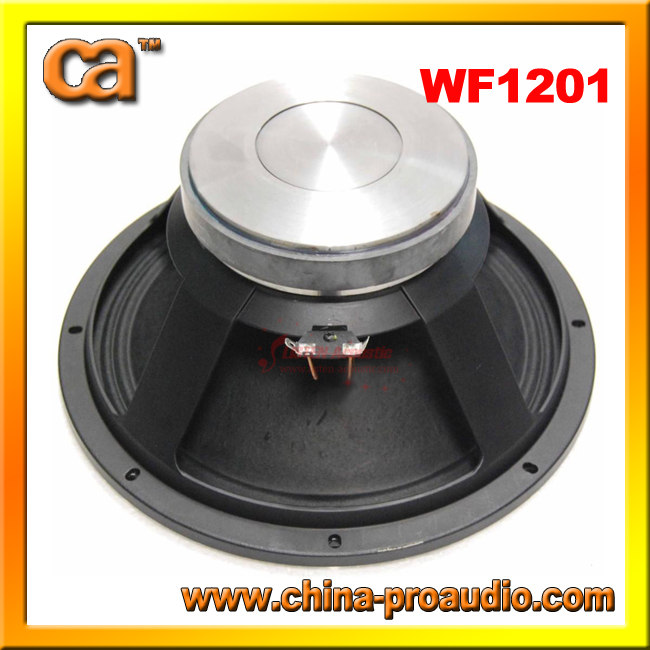 Product: 12inch audio woofer for loudspeaker WF1201