Detailed Product Description
Destructive security barcode labels
1:the content can be customized
2:the label size can be customized
3:security private barcode labe
We provide perfect destructible label paper materials and the destructive labels!
Our destructive papers are on 4 grades of brittle
Grade A: very brittle of the facestock
But it is hard to cut the spare papers
Grade B:moderate brittle of the facestock,but it is tend to Grade A
The spare papers cannot be cutted by hand,cannot by machine
Grade C:moderate brittle of the facestock,but it is tend to Grade D
The spare papers can be cutted by machine
Grade D:the facestock is not very easy brittle.
The spare papers can be cutted by machine.

Label Name(on shows):barcode labels
The details are accoridng to your requests.
1:brittle grade: can be customized
2:the facestock is smooth and the print effect is good
3:Printed by common ribbon printer.
Instructions:Tamper evident destructible labels ara unique tamper proof security labels for excellent high bond adhesion and conformability to smooth or curved irregular surfaces.
When the destructible labels are tampered against removal and are easily damaged, causing cracking and cause multiple chipping effect in tits and bits leaving behind the evidence of tampering.
These tamper evident destructible labels are great for use on electronic equipments, appliances, rental equipment, computers, laptops and instrumental or machinery repairs when you need to prevent undetected access.
These destructible labels or stickers cannot be switched to another piece of equipment without tamper detection being evident.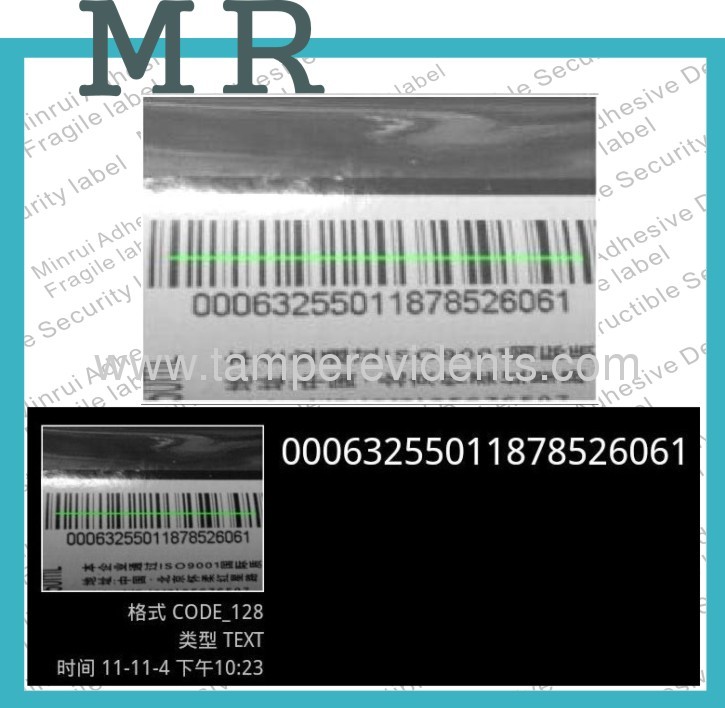 Destructive security barcode labels

But the destructible labels are not only for this way,they could be in many designs,because the printing effect is good,you could add any designs into the labels for protecting your private products from tampering!
Please just tell us some ansers to questions below:
We could offer you valid quotation according to your answers above,please send us your enquiry from our contact information!
Waiting for your kindly enquiry!
We are the manufacturer of the destructible vinyl label materials,custom destrucitble labels will be in good quality and nice price!
Ordering process:


enquiry (you send first and tell us your requests according to the questions above)
→
draft design (we send)
→
make sure ( you send )
→
quotation and PI (we send)
→
payment (you send)
→
produce (we send you the process when we are producing)
→
send you by door to door express (we send you tracking number)
→
received by you
Welcome enquiries!^_^