Fountain Solar energy weak light water pump G-Y-D-005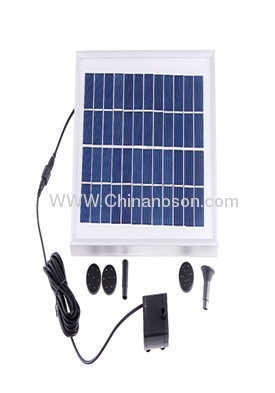 Product performance:
Start: The water pump will not working without sunlight, It will restart within three seconds once the sunlight re-appear.
Useful life period >> 20000Hours
Workking hours in sunny: 8: 00 AM~5: 00PM
Product Details
1. Designed for fountain ,Solar energized, maintenace free, cost free and easy to install.
Typical applications include creating small fountains, pumping water garden features and garden irrigation.
2 .Solar powered with battery back up,the energy is supplied by solar panels, The stronger the sunshine is, The more water can be pumped, It is workable even in the cloudy or hazy day.
3.Dry run protection prevents the pump from burning out when fountain or pool dries out.
4. High reliability, non-rotatable engine,low water flow, can overcome the problem of sand absorption of normal submersible water pump.
5. No need profssional maintenance, It can be dry operated for several hours without damage.
6. The diameter is very small, 8.0cm diameter of well is enough for use, therefore, It saves the cost of well.
No failure-prone carbon brush or shaft seal so that a robust and long service life could be expected.
| | |
| --- | --- |
| Art.NO. | GY-D-005 |
| Brand Name | NOSN |
| Place of Origin | China (Mainland) |
| Theory | Solar powered pump |
| Power | Solar powered |
| Fuel | Solar Energy |
| Application | Home & Gardem fountian |
| Usage | Water |
| Structure | water pump |
| Art.Size(cm) | 283*180*52mm |
| QTY/CTN(pcs) | 20pcs |
| Carton Size(cm) | 60*39.7*29cm |
| Solar panel | 12V 420MA |
| Controller | ATTINY13 nc |
| Voltage | 12V 5W |
| Electric current | 300MA |
| Head of delivery | 180CM |
| Rate of flow | 380L/H |
| Art.weight | 0.93kg |
| Water Pump | Without shaft brushless motor |
| Unit Price(USD) | Negotiable |
| Packing | Carton packing or as per your option |
| MOQ(pcs) | 100pcs |
Litres per hour - At various pumping heights (Head)

Operating
voltage

@ 0m

@0.5m

@0.75m

@1.0m

@1.5m

@2.0m

@2.5m

@3.0m

Max height

12V

980

550

300

0

1.0m

18V

1350

1070

840

755

420

60

0

2.1m

24V

1560

1480

1200

1190

930

690

430

50

3.2m

Pump Curve