CPR Mask (Economic Type)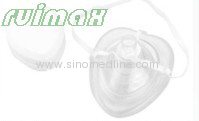 Specification:
Size: L (Adult)
Soft, foldable design
Can be used immediately
One-way valve with 3m filter protection
Safe rescue and no cross contamination
With oxygen port
Could be used as an oxygen mask after CPR, no need to change
Pre-inflated contoured soft cuff shapes easily fits adult, child, and infant facial contours
Customized cellular phone chain
Application:
The CPR mask is designed to provide protected rescue breathing for any patient and may also be used with a resuscitators. It helps protect rescuers in an emergency situation.
Features:
1.Prevents direct contact with victim's mouth, nose and face and helps overcome hesitation to start resuscitation.
2.Transparent dome allows rescuer to visually check for patient's lip colour and vomitus.
3.Made of durable plastics for easy cleaning and long product life
4.Made from latex free material
5.OEM and ODM acceptable
Note:
The air we breathe in travels to our lungs where oxygen is picked up by our blood and then pumped by the heart to our tissue and organs. When a person experiences cardiac arrest - whether due to heart failure in adults and the elderly or an injury such as near drowning, electrocution or severe trauma in a child - the heart goes from a normal beat to an arrhythmic pattern called ventricular fibrillation, and eventually ceases to beat altogether.
This prevents oxygen from circulating throughout the body, rapidly killing cells and tissue. In essence, Cardio (heart) Pulmonary (lung) Resuscitation (revive, revitalize) serves as an artificial heartbeat and an artificial respirator.
CPR may not save the victim even when performed properly, but if started within 4 minutes of cardiac arrest and defibrillation is provided within 10 minutes, a person has a 40% chance of survival.