Adjustable Oxygen Venturi Mask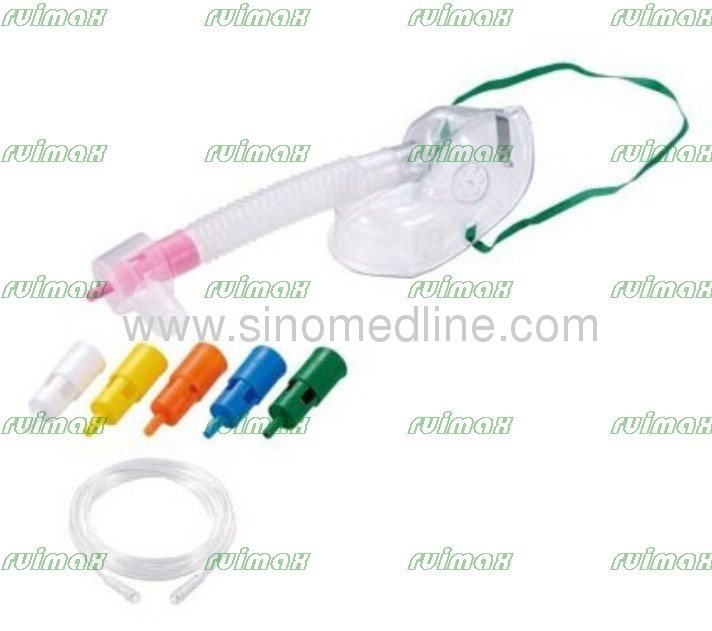 Specification:
Tube 2M
Size: XL (Adult Elongated),
L (Adult Standard),
M (Pediatric Elongated),
S (Pediatric Standard)
Six Venturi Valves for choice:
blue-24%, yellow-28%, white-31%,
green-35%, pink-40%, orange-50%
Color: light green, clear
Feature:
1.Adjustable oxygen mask
2.Non-toxic PVC, Medical grade transparent
3.Marked with CE and ISO13485
4.Made of clear, soft, non-toxic PVC
5.Six color coded diluters for six concentration: 24%,26%,28%,30%,35%,40%,50%
6.Adjustable nose clip,Adaptor for high humidity,With 2m anti-crush tube
We offer a wide selection of Venturi-style masks. Consider the standard Venturi-style mask, which includes six diluter jets ranging from 24% to 50% FlO2.
The standard Venturi-style mask is available with various oxygen diluters to accommodate pediatric or adult patients.
All standard Venturi-style face masks are under-the-chin style and are supplied with a 6 in. flextube, humidification hood and 7 ft. adapter tubing.
We also offer the standard Venturistyle mask with a tracheostomy mask.
These masks accommodate pediatric and adult patients. Each mask comes complete with 7 ft. of oxygen tubing, a 6 in. flextube, color-coded low and medium concentration dials, a high-humidity adapter, a high-humidity cup and a concentration indicator/locking ring.