Paraffin Gauze Swab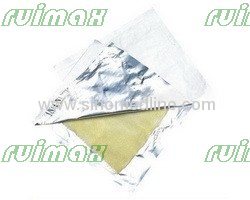 Specification:
100% cotton
Leno-weave cotton fabric impregnated with soft paraffin.
Size:5cmX5cm, 7.5cmx7.5cm,10cmx10cm;
Package: 1pc/pouch, 50pcs/box
Application: Used for the treatment of burns, ulcers, Skin grafts and a variety of traumatic injuries.
Feature and Advantage:
It is non-adherent, non allergenic, gamma sterile dressing.
A non medicated tulle dressing effectively supports all phase of wound healing.
Impregnated with paraffin.
Forms a separate layer between wound and gauze.
Facilitates air circulation and hastens healing.
Sterilized by Gamma Radiation