Solenoid Valves with all voltage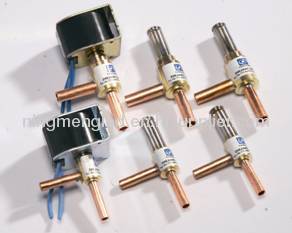 High quality,Long life cycle solenoid valve

The solenoid valve is applied in air conditioner, dehumidifier, ice machine, refrigeration system in order to automatically open or close the on/off of refrigerant and its direction.
The solenoid valve is mainly composed of valve body and solenoid coil. The control of energizing or deenergizing the solenoid coil opens or closes the valve and further applies this operation to refrigerant in the system accordingly Main Characteristics of solenoid valve: compact design, low power consumption, reliable operation.
Groups of solenoid valve:
1)AC normally close solenoid valve,
2) AC normally open solenoid valve,
3)DC normally open valve.
Specification:
1 Coil voltage : AC230V \AC220V \AC110V
2 Voltage range: 85%~110%
3 Suitable refrigerant : R12 \ R22 \ R134A \ R410a \ R404c etc.
4 Medium temperature: -20~120
5 Ambient temperature : - 20 ~ 55
6 The highest working pressure: 3.0Mpa
7 Interior leak : ≤300mL/min (FDF6A:≤500mL/min)
8 Life :100,000 times open and close
9 Temperature rise : Less than 65oC