Thermal Expansion Valve Series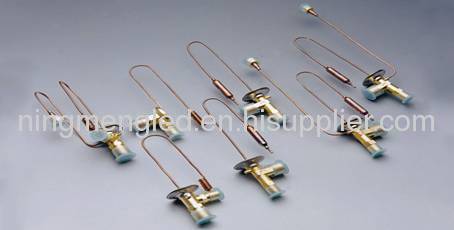 Specifications
1.intelligent adjustment valve
2.auto air conditioner expansion
3.similar quality level with danfoss

Function of Thermal Expansion Valve:Automatically adjust the flow of liquid refrigerant into evaporator. It can throttle, reduce he pressure, and adjust the flow rate based on the change of super heat of gas refrigerant out of the evaporator and evaporating pressure.
It consists of: 1)main body;2)replaceable core.

Main Characteristics of TEV: core is replaceable; easy warehoused, serviced and match the system requirement. Use thermal stainless steel diaphragm, reliable welding, long life diaphragm, excellent adjustment, advanced thermal bulb charging technology. And the super heat can keep equal within the evaporating temperature range.

It is one of largest companies manufacturing fin style heat exchangers in China, specializing in developing and producing refrigeration components, home air-conditioners, business air-conditioners, auto air-conditioners, refrigerate equipment, ice-making facilities, etc. It is also a national high-tech enterprise, has achieved more than 40 patents. Passed the ISO9001: 2008, ISO/TS16949: 2009 quality system certification and ISO 14001: 2004 environment system certification.