Surgical Blade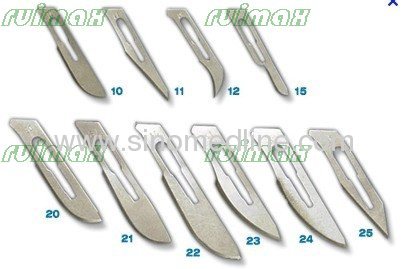 Specification:
RM5001A: Carbon Steel
RM5001B: Stainless Steel
Size: 10#, 11#, 12#, 12B#, 12D#, 13#, 14#,
15#, 15C#, 16#, 17#, 18#, 19#, 20#, 21#, 22#, 23#, 24#, 24D#, 25#, 26#, 27#,
34#, 36#, 36D#
Feature:
1.The packing is done with seal by the compound material of polyester and aluminium foil with the nature of the good airtight-ness and bacterium isolation.
2.It is sterilized by the Co-60 gamma radiation and can be used directly without being re-sterilized before use.
3.It can prevent the cross infections from the medical sources and be suitable to the field rescue.
Directions of use and points for attention
1.Tearing open the package according to the indicated direction by words on the small package.
2.Forbidden to use if the small package is damaged.
3.Forbidden to use if the appearance is rusty and cracked
Sterile surgical blade with fine sharp cutting edge in well sealed packages, which provide most safety and least pain to patient. It is made of stainless steel or carbon steel material applied to medical with sharpness and tenacity through punch, heat treatment ,grind and burnish process etc. Sterile surgical blades are assembled on the surgical knife handles for the surgeons to cut the soft tissues. After packaged, the products shall be sterilized with Gamma ray for disposable clinical use.
Sterilization: gamma radiation sterilization
Use:This product is used for the basic surgical surgery for cutting soft tissues