7inch Nissan new TIITA Car GPS Navigation DVD Player

6: 9 high definition, 7 inch digital 800*480 TFT screen car DVD player with touchscreen
1.800X400 HD/LCD screen car dvd/car gps/car navigation
2.double din/car stereo/car pc/car audio
3.for NISSAN NEW TIIDA.
Function:
1. In-dash DVD player with built-in amplifier (22 watts RMS/45peak x 4 channels)
2. Fit 2-Din size.
3. Multi-angle adjustable front panel;
4. 7& quot; LCD video screen with touch screen controls;
5. Compatible with DIVX/DVDs, DVD-RS/RWS DVD+RS/+RWS, CDs, CD-RS/RWS, MP3/WMA discs, JPEG, and MPEG1 and 2 files;
6. Compatible with PAL/NTSC/SECAM /SECAM _L TV System; 100 stations preset;
7. Compatible USA/EUROPE/Russia/Japan Radio system;
8.SupportSDCard /USB/IPOD/AUX port.
9. Manifold preset audio/video effect;
10. AUX audio input from front panel;
11. 1 Way video input
12.1 Way Rear-view camera input;
13. 2 way Audio output;
14. 2 way video output;
15. 1 way super-woof audio preamp output;
16. Wireless remote control;
17. 18 FM/12 AM presets;
18. RDS built-in
19.Compatible with Bluetooth adapter for hands-free calls with compatible cell phones, Phone-book Manage function.
Special function:
1) Built-in GPS navigation of outside connection, windows CE 6.0 system.
2) Built-in CAN BUS car connection control.
3) Set external remote or steering control function.
4) Built-in DVB-T digital TV (optional)
5) built-in TMC function(optional).
Main Fuctions:
1.Power LOGO can be replaced and chosed on the machine.
2.There is a real spectral feaure.
3.It can be set the volume balance individually in each play staus.
4.Steering wheel control function can be finished by touch screen.
5.The effect for page change can be set randomly.
6.Handbrake on and off function can be set on the machine.
7.The main interface/sub-interface can be selected by dragging.
8.Nine lauguages can be selected freely on the machine.
9.Version information and hardware information (including port and baud rate) can be viewed on the machine.
10.Machines software (including the CPU software and UI interface) can be upgraded by SD card.
11.UI interface can be replaced easily.
12.Radio frequency can be chosen freely.
13.During reading DVD,Press left 1/3 region of the main screen is the previous song.,Press right 1/3 region of the main screen is the next song,and the middle regions is the play menu.
14.Machine IPOD has the automatic power function.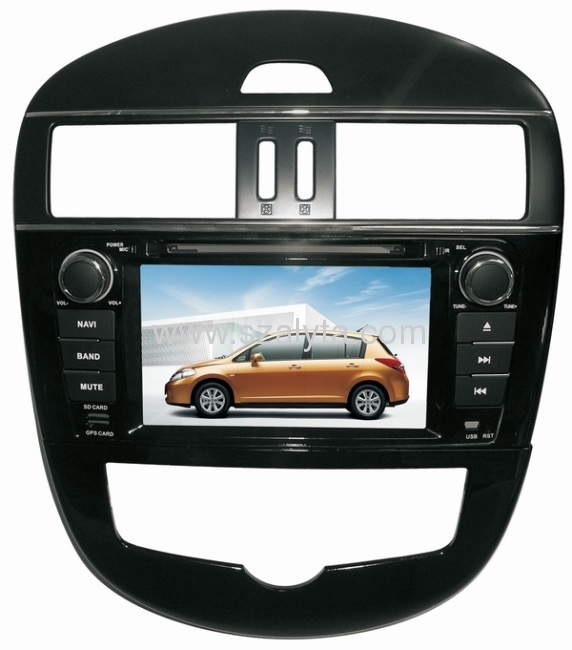 7inch Nissan new TIITA Car GPS Navigation DVD Player