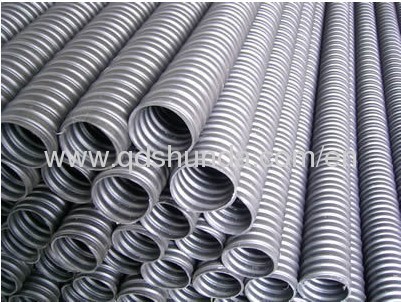 Production Name: Pre-Stress Plastic Corrugated Pipe Production Line
As a new type of holed material,pre-stress single wall corrugated pipe has many comapared with metallic corrugated pipe.It is acid resistant, alkali resistant, it has good sealing property, there is no seepage for water or paste, Its rigidity is rather high. Its frictional coefficient is small. It is ageling proof, electric erosion proof, it has good soft flexibility. It can not be easily broken by a digging har. It is convenient for connection in construction. So it has overcome all shortcomings of traditional metallic corrugatecd pipes. Such kind of pipes are orifinally imported from overseas with rather high price and long time delivery. Facing such status, has positively for chiefly HDPE pre-stress single wall corrugated pipe, the specification ranges from:50mm-160mm.This item has filled national gap. This will undoubtedly facilitate application of pre-stress single wall corrugated pipe. It will also bring a lot of profit for producers of relative finished products.
1. Round pipe and flat pipe are available.
2. This line has filled the technical gap in this field in China.
3. Pipe diameter range: 50—160 mm
4. The corrugated pipes widely used in concrete project for building highway overpass, the viaduct, railway bridges, etc.
5. This extrusion line can make different pipe diameters prestressed corrugated pipe By replacing the mold and module.
Technical Parameter
Composition of production line

Model

Motor power(Kw)

Weight(kg)

Quantity(set)

Characters

Single-screw extruder

SJ65/28,

SJ90/28

22,55

2500,3000

1

high-efficiency extrusion

Machine head mould

complete cooling system

Corrugated pipe molding machine

2.2,4,5.5

19000

1

:caliber: 50-160

Pipe cutting machine

SD-160

2.2

4500

1

cutting range: 20-160

Mould cooler

SML-7F

10MP

420

1

quick cooling mould

Funnel type drying machine

STG-U40

2.6

50

1

It is fixed on main machine to avoid being affected from damp for twice.

Automatic feeding machine

ZJ200

1.1

50

1

automatic feeding

Plastic mixing machine

SHL50

1.1

80

1

mixing and coloring of raw material

Plastic crushing machine

SWP400

18.3

980

1

Plastic pipe is crushed direct