Non-woven Hand Towel/Non-woven cleaning cloth/kitchen cloth/J cloth/Surgery Towel/Gauze Towel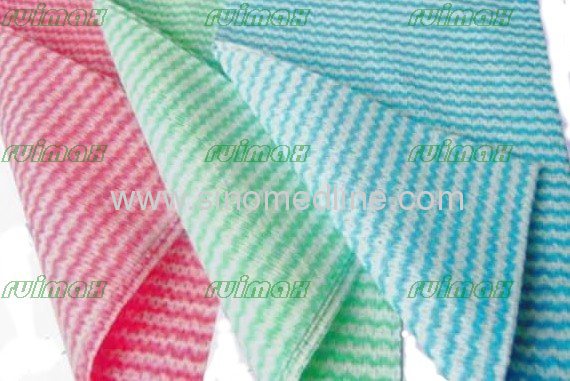 Specification:
1.Material 50%viscose 50%polyester or as your requirements
2.Color white with colorful wave
3.Size: 25X48cm, 60X43cm
4.Weight: 35-80gsm
Usage:Household, hospital, office ,hotel and other place
Features: waterproof, anti-blood;
How to use:Open the package; use it according to the medical routine;
Note:
1. This product is a one-time use only and destroyed after use;
2. Prohibition of use with damaged package;
3. The asepsis term of validity is two years, prohibit the use of expired products;
4. Should be stored in a dry, ventilated environment;
Applicable Scope:Used in operation room, cover the wound for treatment;
The waved cleaning wipe is made of nonwoven cloth which has competitive price
It's economical than paper towels and outperform sponges,wipes,paper towels and dish towels and can be used for many jobs in and around home.
The tried and tested general purpose wiping cloth which is often imitated but never bettered. The thousands of small holes increase the surface area of the cloth helping it to remove dirt. It dries out quickly preventing the growth of micro-organisms and can be used with the majority of cleaning chemicals,apertured to assist with the removal of dirt,short term or even single shift use