PPR 90 Degree Elbow Pipe Fittings with Pressure PN25
***SPECIFICATIONS:
Size
Net Weight (g)
PCS/CTN
MOQ (cartons)
DN20
16g
720
5
DN25
27g
440
5
DN32
44g
225
5
DN40
80g
130
5
DN50
143g
66
5
DN63
252g
40
5
DN75
398g
24
10
DN90
681g
18
10
DN110

1225g
8
10
DN160
2730g
4
10
***PPR 90 degree elbow Pipe Fitting Features & Advantages:
1. Sanitization & Non-poison: This product is green building material which is able to use for pure clean drinking water pipe system. No heavy metal additives would not be covered with dirt or contaminated by bacterium.
2. High Temperature Resistance: the maximum sustained working temperature is up to 70 Degrees Celsius, the maximum transient temperature is up to 95 Degrees Celsius.
3. Corrosion-Proof & Non-Fouling: Resist chemical matters or electron chemical corrosion. Able to avoid the pipe's fouling or blocking as well as the blemish, rust on basin and bath.
4. Beautiful Appearance & Higher Flow Capacity:Smooth inner and outer surfaces, less flowing resistance, soft color and beautiful figure.
5. Easy and Reliable Installation: Using heat melting joint without sleeve wire, and taking few seconds for connecting and adopting good quality copper inserts to connect the metal pipe and basin.
6. Long Using Life: ppr male coupling for pipe fitting can be used for over 50 years under normal condition.
7. PPR 90 degree elbow pipe fitting is recyclable and environmental friendly.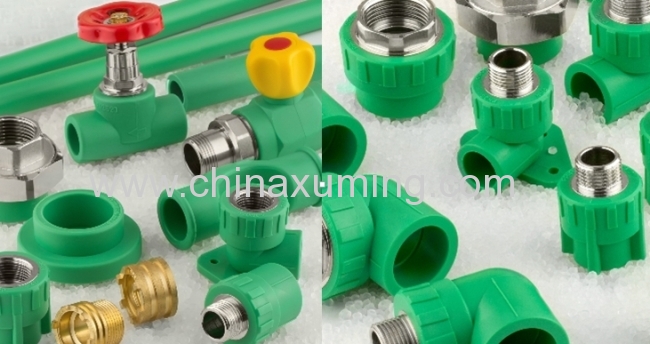 ***Use of PPR 90 Degree Elbow Pipe Fittings
1. Building hot and cold water systems, including central heating systems;
2. The building heating system, including flooring, siding and radiant heating systems;
3. Can be directly purified drinking water supply systems;
4. Central (centralized) air-conditioning systems;
5. Transfer or discharge of chemical mediators such as industrial piping systems.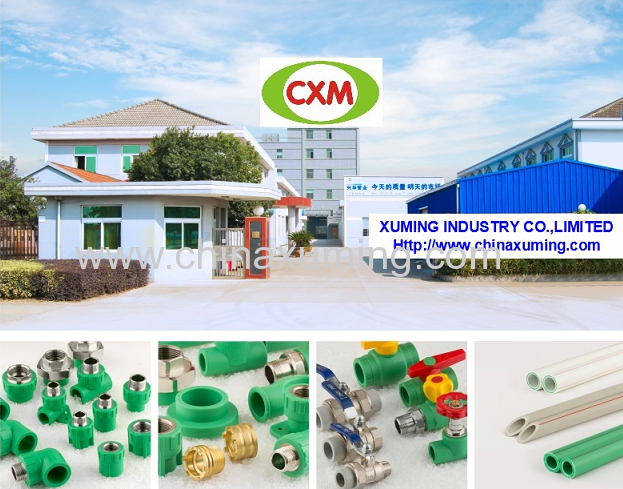 ***PPR Pipe Connection Method
1.A view of the die is complete
2.The die is fixed by screws stresses hotplate
3.Reinforcement die with a hex wrench
4.Cutter the PPR pipes, and remain flat fracture.The pipes and fittings vertically into heat welding head
5.After sufficient heating, pipes and fittings pulled out quickly inserted vertically and remain for some time in normal weld joints should have a uniform weld ring.