Hand Crank Dynamo Radio Flashlight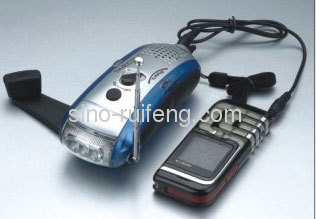 1.hand winding for power
2.FM/AM radio
3.high bright led
4.CE/RoHS
| | |
| --- | --- |
| Name | Dynamo LED Flashlight With Radio |
| Radio | AM&FM |
| Measurement | 14.3×6.2×5.0CM |
| Weight | 200g |
| Material | ABS PVC |
| No. of LED | 3 LEDS |
| LED Luminosity | 10k MCD each |
| LED Lifetime | 10k hours each |
| LEDs lighting sequence | 1 – OFF – 3 – OFF |
| Inserted battery | 3.6V 80mAH lithium(rechargeable) |
| Lighting time after 1minute winding | Approx. 90mins for 1 LED |
| | Approx.30mins for 3 LEDs |
| Radio broadcast time after 1minute winding | Approx.8mins |
| Package | White or colour box, Gift box, Blister |
| Warranty | 2 years |
Function:
As flashlight
One minute cranking = 30 minutes light for 3 LEDs
Press switch once for 1 led illumination
Press switch three times for 3LEDs illumination
As phone charger
Matched with different connectors, it can be used to charge, correspondent mobile phones. 3min. cranking can offer 2-5 min. Talk time or 20-50 min. stand-by time.
As AM/FM radio
High performance AM & FM frequency with extendable antenna
Features:
1. Turn the handle to generate ultra bright light or radio power
2.Generate light and music anywhere, anytime
3.Three ultra bright LEDs
4.AM/FM radio with built-in antenna
5.Convenient wrist strap included
6.Ideal for emergency, home, auto, camping, fishing etc.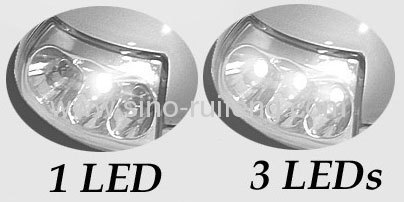 crank dynamo radio flashlight
hand crank dynamo radio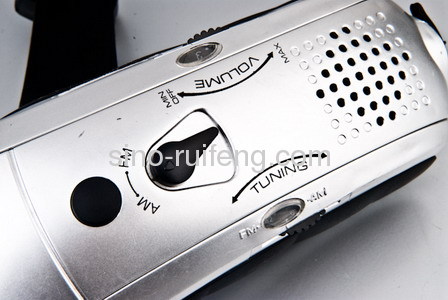 DC port for emergency phone charging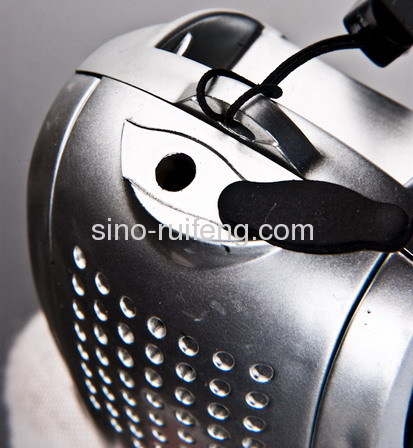 Product structure