Specifications
gear of high quality
and competitive price
strict quality control system
and best after-sale service
good reputation

We have three branches: a cold processing plant mainly based on shaft processing, a large-scale heat treatment equipment factory mainly based on heat treatment processing, and the other is mainly based on big modulus gear processing.

With many years of development and growth, the company has quite a sophisticated technology and equipment: such as the12m, 10m, 8m, 4m hobbing machine produced by German , the 12m,8m, 6.3 m, 5 m, 4 m heavy-duty vertical lathe produced by Russian , 160 boring lathes and 200 boring lathes. In addition, the company also has the 4.5× 8.5m ,2.6 × 5.4m trolley furnace, 250KW intermediate frequency and 60KW high frequency heating equipment, 105KW seepage charcoal and other heat treatment equipment, and 2 × 10 m, 2.5 × 16 m ,10m ,12m,single-pole, NC and so on.
The company's main products are: large modulus gear, large roll (to fill the gaps in the South region of china), wind power, nuclear power, hydropower, thermal power and other equipment and spare parts.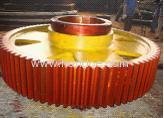 The company's main features are: it owns a modernization heavy plant, new high-tech heavy equipment, which set a modern, hot and cold processing company .it is first rate in the machinery industry and private enterprise.

If you have any interests in our products, just feel free to contact us for more information, once we get your drawings and specifications, we are sure to meet your requirements.