Deep groove ball bearings 6006-ZZ

1)Materials for rings and rollingelements

While the contact surfaces between the bearing ringsand rolling elements are subjected torepeated heavy stress,they must stillmaintain high rotational precission,therefore, the materials used for bearingsrings and rolling elements require the following characteristics:

●Highrolling contact fatigue strength
●High hardness
●High wearresistance
●High dimension alstability
●High mechanicalstrength

The material used by our company is high carbon chromiumbearings steel GCr15-GB/T18254 equivalent such as
AISI 52100(USA),DIN100Cr6(Germany) JISSUJ2(Japan) and BS534A99(UK).

2)Materialsfor cages

The materials for cages must have strength towithstandrotation at load and shock load. Low frictional efficiency light weight andbe able to with stand operation temperature.

The material used in ribboncagesor crown cages is 08F or SPCC pressed.

It is chemical compositionis shown for extra-high speed application. Plastic cages such as glassreinforced poly mideareused.

These plastic crown have the advantages oflow torque,long grease lefe and low noise,etc.

3)Vibration and noise

●Themeasuring parameter of vibration adopted by RNB is the vibration acceleration ofvibration velocity.

● The measuring units and measuring method arespecified by JB/T5314 and JB/T5313 In the process of measuring vibrationstrictly controlled noise by using acoustics.

4)Internalclearance

Single row deep groove ball bearings are manufacturedwith Normal radial internal clearanceas standard. Most of the bearings are alsoavailable with C3 radial internal clearance. Some of the bearings can also besupplied with as maller C2 clearance or the much greater C4 or C5 clearances. Inaddition, deep groove ball bearings are available with reduced or displacedinternal clearance ranges. These special clearances may use reduced ranges ofstandard clearance classes orpartitions of adjacent classes, see designationsuffix CN in section.

5)Tolerances

Single rowdeep groove ball bearings are manufactured as standard tonormaltolerances.

Single row deep groove ball bearingsare produced to higher precision than the ISO Normal tolerances. Thedimensional accuracy corresponds to P6 tolerances, expect the width tolerance,which is considerably tighter andreduced to

-0/–60μmfor bearings withoutside diameter up to 110 mm
-0/–100 μm forlargerbearings.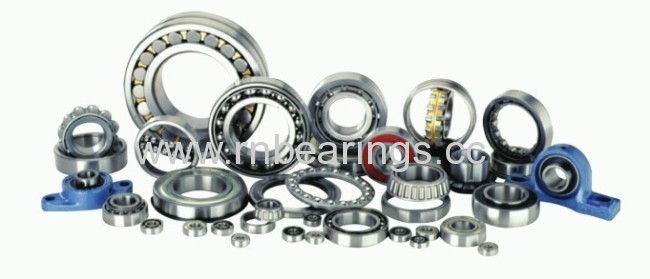 Therunning accuracy depend on the bearing size andcorrespondsto

- P5tolerances for bearings up to a 52mm outsidediameter
- P6 tolerances forbearings above 52 mm up to 110 mm out side diameter
- Normal tolerances forlarger bearings.

For bearing arrangements where accuracy is a keyoperational factor, some SKF single row deep groove ball
bearings are alsoavailable with accuracy completely to P6 or P5 tolerance classs pecifications.The
availability of these bearings should always be checked beforeordering.


RNB
Shape Dimension(mm)
basic Load Rating(KN)
Max Speed(rpm)
Weight
Bore
Outer Diameter
Width
Radius
Bearing NO.
d
D
B
r min
Dynamic
Static
Grease
Oil
(kg)
mm
inch
mm
inch
mm
inch
mm
inch
Cr
Cor
606
6
0.2362
17
0.6693
6
0.2362
0.3
0.0118
1.95
0.72
30000
38000
0.0057
607
7
0.2756
19
0.748
6
0.2362
0.3
0.0118
2.88
1.08
28000
36000
0.0071
608
8
0.3149
22
0.8661
7
0.2756
0.3
0.0118
3.32
1.38
26000
34000
0.011
609
9
0.3543
24
0.9449
7
0.2756
0.3
0.0118
3.35
1.4
22000
30000
0.014
6000
10
0.3937
26
1.0236
8
0.3149
0.3
0.0118
4.58
1.98
20000
28000
0.018
6001
12
0.4724
28
1.1024
8
0.3149
0.3
0.0118
5.1
2.38
19000
26000
0.02
6002
15
0.5906
32
1.2598
9
0.3543
0.3
0.0118
5.58
2.85
18000
24000
0.026
6003
17
0.6693
35
1.378
10
0.3937
0.3
0.0118
6
3.25
17000
22000
0.036
6004
20
0.7874
42
1.6535
12
0.4724
0.6
0.0236
9.38
5.02
15000
19000
0.069
6005
25
0.9843
47
1.8504
12
0.4724
0.6
0.0236
10.1
5.85
13000
17000
0.075
6006
30
1.1811
55
2.1654
13
0.5118
1
0.0394
10.18
6.91
10000
14000
0.116
6007
35
1.378
62
2.4409
14
0.5512
1
0.0394
12.47
8.66
9000
12000
0.155
6008
40
1.5748
68
2.6772
15
0.5906
1
0.0394
13.1
9.45
8500
11000
0.185
6009
45
1.7717
75
2.9528
16
0.6299
1
0.0394
16.22
11.96
8000
10000
0.231
6010
50
1.9685
80
3.1496
16
0.6299
1
0.0394
16.94
12.95
7000
9000
0.25
6011
55
2.1653
90
3.5433
18
0.7086
1.1
0.0433
23.28
17.86
7000
8500
0.362
6012
60
2.3622
95
3.7401
18
0.7086
1.1
0.0433
24.35
19.35
6300
7500
0.385
6013
65
2.559
100
3.937
18
0.7086
1.1
0.0433
24.66
19.74
6000
7000
0.41
6014
70
2.7559
110
4.3307
20
0.7874
1.1
0.0433
29.68
24.2
5600
6700
0.575
6015
75
2.9528
115
4.5275
20
0.7874
1.1
0.0433
30.91
26.06
5300
6300
0.603
6016
80
3.1496
125
4.9212
22
0.8661
1.1
0.0433
36.57
31.36
5000
6000
0.821
6017
85
3.3464
130
5.1181
22
0.8661
1.1
0.0433
39.04
33.75
4500
5600
0.848
6018
90
3.5433
140
5.5118
24
0.9449
1.5
0.0591
44.63
39.16
4300
5300
1.1
Deep groove ball bearings 6006-ZZ