XKP-450 Rubber Cracker Mill
1)can work continuously all the time
2)energy saving
3)casting structure
Major Construction Details:
Rolls : Alloy Chilled Cast Iron rolls with grooved teeth with hardness 510 ~ 550 BHN.
The Rolls are mirror finished & polished, duly grinded and are hollowed for cooling.
Roll Clearance Adjusting Unit : NIP adjustment at two roller ends is done manually
using two separate screws attached to the bearing housing body.
Journal Bearing Housing :Heavy Duty Steel Casting Housing fitted with Anti Friction Roller Bearings.
Lubrication:Manual / Motorized Grease pump for lubrication of Anti Friction Roller
Bearings fitted in dust sealed housing.
Stand Frame & Apron (Cap) :Heavy Duty Steel Casting / Steel Fabricated.
Base Frame :Common base frame, heavy duty Steel fabricated of Double Channel
and MS plate accurately machined for fitment of auxiliary equipment.
Gearbox :Helical Reduction Gearbox Greaves/ Shanti make direct coupled with Motor and Pinion Drive Shaft.
Electric Control Panel : Star Delta Electric operating panel with Voltmeter, Ampere
meter Overload protection relay, 3 Phase Indicator and Emergency Stop Switch.
| | | | |
| --- | --- | --- | --- |
| Model | XKP-400 | XKP-450 | XKP-560 |
| Diameter of roller(mm) | 400 | 450 | 560 frontroller -510rear roller |
| Length of roller(mm) | 600 | 650 | 800 |
| Liner speed of front roller(m/min) | 18.36 | 24.5 | 25.6 |
| Friction ratio of roller | 1:1.27 | 1:1.27 | 1:1.30 |
| output(kg) | 200-400 | 400-600 | 2000 |
| Motor power(kw) | 37 | 55 | 75 |
| L*W*H(mm) | 3320*1900*1850 | 4650×2000×1550 | 4750×2300×2000 |
| Weight(kg) | 7000 | 11000 | 18500 |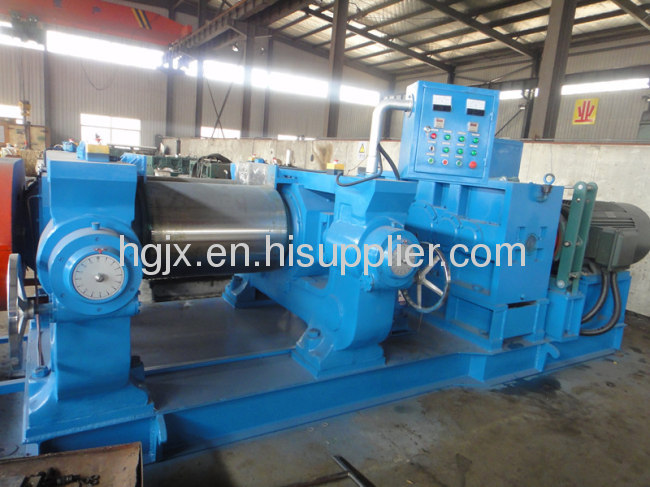 XKP-450 Rubber Crusher