XJ-115 Easy-controlling Rubber Extruder Machine

1).usage

It is mainly used for continuous extrusion and forming of rubber sealing strip, with frame strip, rubber sheet, tape, tubes and other shape of dense or foaming rubber frofiles for auto, construction, water conservancy, roads and bridges, electric , machinery and other industries.
2).features

1. The barrel is adopted of water jacket structure, is composed of several temperature zones.
2.The screws and barrels are made of high quality alloy steel with nitrogen hardening which makes it more wear-resistant and more corrosion protection.
3.The temperature each zone may be automatically probed and controlled by mould temperature controller with good sensitivity, and can be adjusted according to requirement of process.
4.The extruder is driven by a change frequency motor , which achieve continuous and smooth speed regulation.
5.the extruder is equipped with vacuum pump and vented type screw to vent the air and water of rubber materials during mixing and plasicate
Model

Item

XJ-65

XJ-85

XJ-115

XJ-150

XJ-200

Screw dia

mm

65

85

115

150

200

L/D ratio

4

4.8

4.8

4.4

4.4

Screw speed

r/min

20,27,35,47

28,40,52,72

20~60

27~81

3~64

Motor power

kW

7.5

15

30

55

90

Capacity

kg/h

50~80

62~270

100~420

800

1500~2200

Overall dimensions

L

mm

1594

2065

2770

3411

4549

W

mm

604

760

655

814

1140

H

mm

1053

1154

1350

1470

1750

About weight

t

~1.2

~2.6

~4.0

~4.8

~5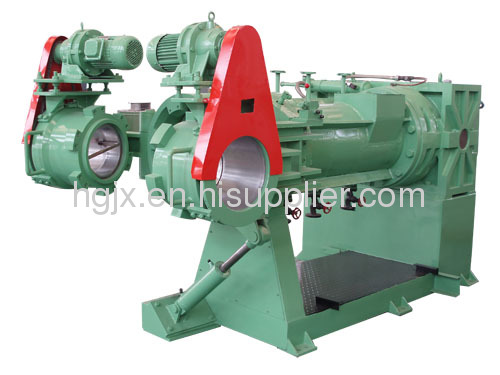 XJ-115 Easy-controlling Rubber Extruder Machine