Open / Lab Two Roll Rubber Mixing Mill Xk-400

Xk-400 Two Rubber Roll Mixing Mill
1.with high quality
2.reasonable price
3.long working time
4.low energy consumption

Structure
Base, frame, the rollers, roller bearing , roll gap adjustment device, heating and cooling device, safety brake, lubrication system, electric control system ,motor and reducer etc.
Two parallel was relatively turn around the rolls with hollow installed in the frame, the machine cover fixed with bolts and frame, lower frame with studs fixed on the base, the device through the worm and from before the rollers connected, turning the hand-wheel , the roller distance can be adjusted.
one end of the back rollers equipped with large driven gear, motor through the planetary gear reducer and small drive gear, will power to big driven gear, make after turning the rollers, and the other end the back roller with gear ratio, it and the cylinder on front roll speed gear meshing, front and back rollers relative to turn.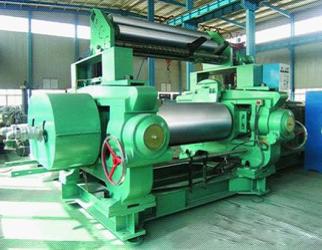 Open / Lab Two Roll Rubber Mixing Mill Xk-400

The machine mainly used for plasticating crude rubber, mixing of rubber materials, warming up of mixed rubber and pressing to sheets etc.Frame, frame cap and base, looking very nice, are welded and treated by annealing for stress relieving.Chilled alloy cast iron roll is abrasion resistant with long service life.The speed reducer is the hard-tooth surface gear reducer of Class 6 precision, which has long service life and low noise.
To adjust the refined rubber process, the rollers temperature can adjust through the heating and cooling device. For the safety of the operation, refined rubber machine equipped with safety brake device, when pulled the lever, it can automatic cut off the power supply, and realize the parking brake.
The rollers bearing lubrication is the dry oil through lubrication device.