XK Series Over Loading Two Roll Rubber Mixing Mill Xk-550

Xk-550 Two Rubber Roll Mixing Mill
1.with high quality
2.reasonable price
3.long working time
4.low energy consumption

Optional Selection tof Four Different Assembles
1)Gap Adjustment Mode
Manual or Electrical (by motor)
2)Lubricating method
Manual or Auto;Grease or Thin oil
3)Emergency stop device
Pull Rod and Emergency button
4)Roller bearings
Nylon Bushing or Copper Sleeve or Spherical Roller Bearing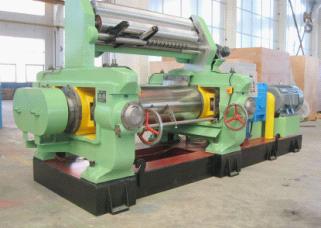 XK Series Over Loading Two Roll Rubber Mixing Mill Xk-550
Structure:
This kind of machine consists of seat, frame, two rollers, driving gear, lubricating device, heating and cooling device, Gap adjustment device , safe braking device, motor and reducer, etc.
Features:
1. Rubber mixing mill machine is made of chilled cast iron of vanadium and titanium alloy,so the surface is hard and wearable;the internal processing can make the temperature of the roll surface well proportioned.
2. Rubber mixing mill machine has overload protection devices,and the major components can't be damaged because of over loading.
3.Perfect emergency stop device can ensure the safety of personnel and equipment.
4.Stock pan is easy to clean up with dislodging device.
5.The transmission system adopts higher hard tooth flank dual axis reducer,which has compact structure,low noise and high efficiency.
6.Human nature designed operating system reduces labor intensity.