Higher Efficiency Two Roll Rubber Mixing Mill Xk-660


Specifications
1.with high quality
2.reasonable price
3.long working time
4.low energy consumption

Product Details
1.The rolls are made of chilled cast iron with spun casting.The roll face is hard and anti-wear.The internal cavity is processed to make temperature well proportioned on the roll surface.
2.The machine is equipped with an overload protection device to prevent the major components frombeing damaged due to overloading.
3.The machine is also equipped with an emergency device.When an emergent accident happens,just draw the pull rod,and the machine will stop immediately.it is safe and reliable
4.The transimission system adopts a ZQ planetary gear reducer,which has a compacted structure with higher transmission efficiency,lower noise and longer service life.
5.The base frame is a complete framework,which is convenient for installation.
6.Rubber mixing mill also is the main machine of making reclaimed rubber. Rubber powder for tank and then put them into the rubber mixing mill. Rubber mixing mill is very important of the rubber product industry.
If you are interested in, please feel free to contact us.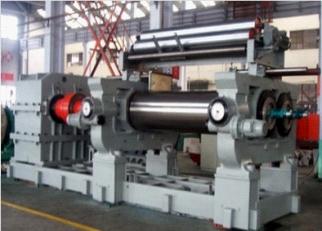 Higher Efficiency Two Roll Rubber Mixing Mill Xk-660