Xk-710 Human Nature Designed Two Roll Rubber Mixing Mill

Xk-710 Two Rubber Roll Mixing Mill
Details
1.with high quality
2.reasonable price
3.long working time
4.low energy consumption

The working surface of the roll is chill cast,forming a very hard and excellent wear-resistant shell.
The rolls can be supplied as casting, or as wholly machined ones,including turning,grinding,drilling.keyway cutting,thread taping.etc. The working surface of the roll can be ground cylindrical or crowned.We are making groove rolls as well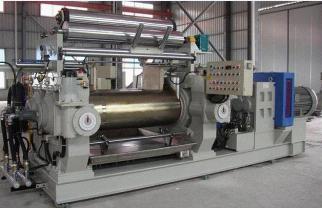 Xk-710 Human Nature Designed Two Roll Rubber Mixing Mill
Specifications
1)Two rollers are made from Chilled Cast Iron,smooth surface is highly polished and scratch proof by cutting knife:high hardness(68-75HSD) and wear-resistant;
2)The roller is hollow structure,which is for adjusting the temperature of the rollers by steam or cooling water in term of different request,Circulation of steam and cooling water is provided through the rolls to control the temperature;
3)There are two kinds of Nip adjustment mode for option:manual or electric;
4)There are three kinds of Main bearings for option:Bearing or Copper bush or Nylon bush;
5)Machine will be tripped off if overloaded to protect valuable electrical circuit;
6)All electrical connections are well,short circuits is impossible by any means.
7)It can be with Stock Blender,or can provide provision to fit stock blender in future.
8)Provision for opening of Nip Guard is provided for the purpose of cleaning of rollers and nip;
9)Hand Operated Safety Switch is provided;