gold coated infrared quartz lamp/electric heater elements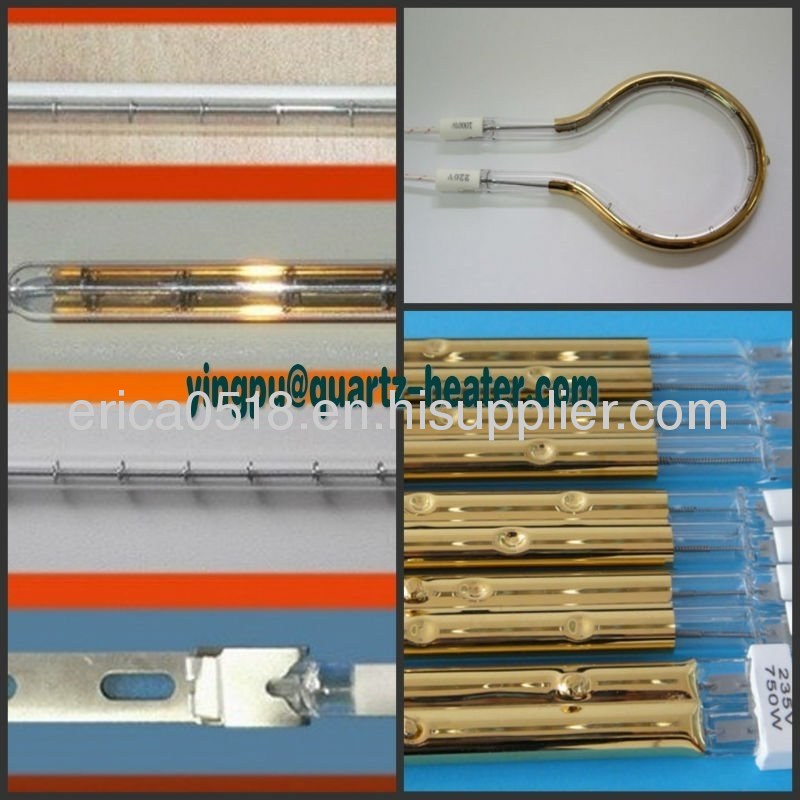 Advantage:
1. No poison, no public harm, no pollution
2. Resist high temperature (800°C)
3. Can ward off UV rays from far infrared ray halogen lamps
4. Special UV lights, able to ward off below 750nm eyeballed lights
5. Attractive and durable plating multiplayer gold heating lamp
6. Effectively protect environment
A halogen gas is filled to ensure constant infrared efficiency and promote long life of the emitter.


Features:
1.High-powered heat sources incorporate a tungsten filament within a quartz envelope
2. Halogen type, which avoids blackening of tube and consequently infrared depreciation during life time
3. Coated to reduce visible glare, improving color rendering and raising infrared output compared to existing zone Heating Lamps
4.Substantially lower visible glare level than even ruby and neutral density zone Heating Lamps
5. Narrower diameter (cf. ruby sleeve) for better optical systems and better color rendering and less
red color appearance than ruby sleeve
6. Infrared Helen glare reduction lamps comply fully with the IEC standards


Benefits:
1. Highly economical, converting practically all consumed electrical power into heat
2. Improvement is over 10 - 30% compared to conventional ruby sleeve and neutral density infrared lamps in existing luminaries
3. Heat transfer is not affected by draughts or air movement and is noise-free
4. It gives a cleaner environment and no oxygen is consumed, so no extra ventilation is required


Applications:
1.Factories, sports halls, exhibition halls, work areas, churches, large halls,warehouses, storage areas, garages, terraces, greenhouses, open air applications, stadiums, camp sites
2. Paint drying

You an contact me with any question.
erica
yingpu()quartz-heater()com
Skype: erica.chen.0518